Miss USA pageant trying to move focus away from Trump and toward contestants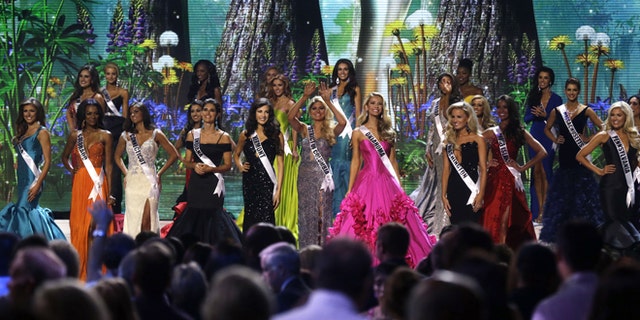 BATON ROUGE, La. (AP) – For weeks the Miss USA pageant has been overshadowed by comments made by Donald Trump denigrating Mexican immigrants. But as women from across the country take the stage Sunday, organizers hope the focus will finally shift to the talented women taking part in the 63rd annual contest.
"We're really making this a celebration about the women," said Paula Shugart, president of the Miss Universe Organization. "This is a once-in-a-lifetime opportunity for them."
Trump, a real estate developer, television personality and now-presidential candidate, owns Miss Universe which produces the Miss USA pageant scheduled to take place on July 12 in Baton Rouge, Louisiana.
His larger-than-life personality has often served to help publicize the pageant. But this year comments he made blaming Mexican immigrants for bringing drugs and crime to the U.S. sparked widespread fallout against the entrepreneur's business empire, including the contest.
The Spanish-language broadcaster Univision said it would not broadcast Miss USA and cut ties with Trump. NBC dropped its pageant telecast although cable and satellite channel Reelz stepped in to broadcast the show. Many celebrities tapped as judges, performers or hosts pulled out of the pageant, although none of the contestants did.
Absent big-name performers, the focus will be on the women and their stories. For a pageant that likes to tout cultural diversity there will be a segment highlighting the many contestants who are first-generation American and one who's immigrant, Shugart said.
"We've always been about cultural diversity, and we're a reflection of the U.S.," she said.
One of the women in the spotlight will be Anea Garcia from Rhode Island.
Garcia was raised by her grandmother who emigrated to the U.S. from the Dominican Republic. When Garcia was 13, her grandmother lost her job. Over the next seven years, they were homeless off and on, often sleeping in their car in a Wal-Mart parking lot.
"There were times where I couldn't shower, or we'd wake up hungry and go to sleep really hungry, but I would go to school early to eat and pack some snacks in my backpack to bring for my grandmother and I," she said. "I definitely had to grow up faster."
She eventually earned a full scholarship to an all-girl Catholic school which also gave her a place to wash up and eat in addition to getting a good education. She said she and her grandmother still struggle to pay bills and rent, but the 20-year-old has a scholarship to Roger Williams University in Bristol, R.I. where she's double-majoring in legal studies and philosophy.
She said she plans to go on to law school and become a criminal attorney, and raised money from supporters through the Internet to help pay for pageant-related costs.
Garcia said she's been sharing her story at homeless shelters back in Rhode Island to try to be a role model to the women and children who are in the position she was in just a few short years ago.
"There are so many stereotypes where just because you're a pageant girl, everything's perfect, because you look perfect, you act perfect, but that's not the case at all. You never know the story behind that pretty face," she said.
Another one of the contestants to be featured Sunday is Polikseni Manxhari from Massachusetts. Manxhari emigrated to the U.S. from Albania with her parents when she was 5. She said she's thrilled the pageant is paying special attention to immigration.
"We have so many beautiful women who are inspiring people not just here but all over the world and sending that message that it doesn't really matter where you come from or who you are, that you can make anything of yourself," she said. "People will not forget this Miss USA."
But after the pageant Sunday, the focus will likely shift to the future of Trump's involvement with the Miss Universe organization.
A number of Latin American countries, including Mexico, have said they will boycott the Miss Universe contest, and the tourism board of Bogota, Colombia said it was withdrawing its support for a campaign it had helped organize to host the next Miss Universe pageant.
But for now Shugart said she and her team are focused on Sunday's show and making sure it showcases the contestants.
"They've been great," she said. "I think they really have a sisterhood out of this."
Like us on Facebook
Follow us on Twitter & Instagram