Miss Colombia forgives Steve Harvey, reveals her main concern were her parents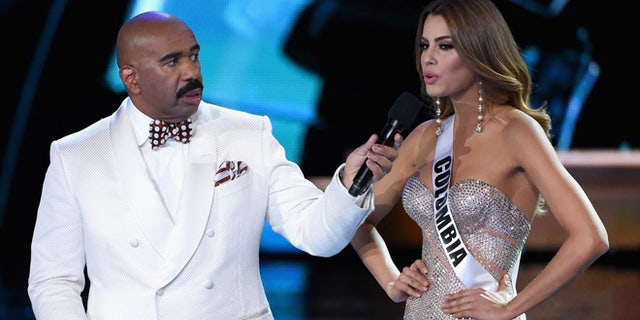 Miss Colombia, Ariadna Gutiérrez, appeared on Steve Harvey's show Tuesday to clear the air and accept the daytime talk show host's heartfelt apology.
In the weeks following the humiliating debacle, when Harvey mistakenly named her as the winner of the Miss Universe pageant, the host repeatedly said he wanted nothing more than to speak with Gutierrez and tell her how sorry he is.
During the show Harvey spoke about the death threats he and his family received and his hope that people can understand that he's "just a man." He reassured the public that his mistake wasn't a publicity stunt or a "slap against the country."
After a teary introduction, Gutierrez took the stage and sat to chat with Harvey.
"It was like a nightmare. I couldn't believe it happened to me," Gutierrez said. "I always dreamed about being Miss Colombia. After the president, comes the Miss. I worked hard for it. Actually, I was more worried about my parents than myself."
Gutierrez would have been the first Colombian Miss Universe in 57 years.
"People got angry because they feel like they got robbed of the crown. People felt bad in Colombia and in the Latin community they felt humiliated," Gutierrez told Harvey.
Tuesday's encounter wasn't all tense though, with Gutierrez showing her talent for comedy more than once.
When Harvey mentioned rumors of a lawsuit, Gutierrez answered, "Don't worry, I'm not going take your mansion. Not your car or your mansion. Now you can breathe. I never thought of suing you. That's not me."
At one point Harvey asked Gutierrez about Donald Trump's comment following the Miss Universe pageant, that "the crown should be shared." Without missing a beat Gutierrez said, "I already shared the crown!"
In the end Harvey seemed genuinely concerned that Gutierrez understand how badly he felt and that she have her moment to express how she felt in that moment.
Harvey said he was relieved to have a moment of closure. "I would never do that to hurt someone. Or to hurt a woman. I've been a champion for women."
Gutierrez seems to have come to a place of acceptance about the fateful night.
"In the beginning I was blaming God. And asking Him why did you do that to me? Now, I'm starting to understand. Maybe I'm going to be bigger than Miss Universe. Miss Universe is a beauty contest. I'm going to spread a message. I'm a role model for young girls," Gutierrez said.