Michael Ferraro's Memorial Day feast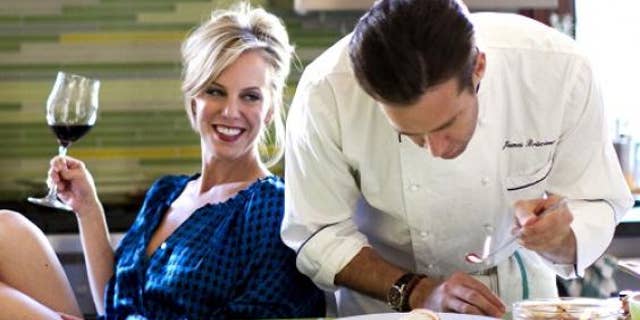 Fire up the Memorial Day grill with this classic holiday feast from Michael Ferraro, executive chef/partner at Delicatessen and Macbar:
VINEGAR BBQ RIB SAUCE
Ingredients
1 cup apple cider vinegar
2 garlic cloves (finely chopped)
1/2 tsp crushed red pepper
1/2 cup tomato paste
1 Tablespoon creole mustard
1/8 cup brown sugar
Method
Incorporate all ingredients into sauce pan over medium heat and simmer for 15 minutes. Sauce is a light homogeneous mixture and not intended to be a thick BBQ sauce.
PEACH BBQ RIB SAUCE
Ingredients
1 lb. peeled and diced fresh peaches
1 small Vidalia onion (minced)
1 Tbsp jalapeno (seeded, deveined, and diced)
1 Tbsp canola oil
1/4 cup apple cider vinegar
1/4 cup bourbon
2 Tbsp honey
2 Tbsp Dijon mustard
1/4 tsp fennel pollen
1/4 tsp chili powder
1/8 tsp dried mustard
Pinch of kosher salt
1 tsp brown sugar
1 garlic clove (minced)
Method
Sautee canola oil, jalapeno, peaches, onion, garlic and kosher salt for 8-10 min.
Add remaining ingredients. Bring up to a simmer for 30 min.
Puree and smooth on a blender
BOURBON BBQ RIB SAUCE
Ingredients
1 cup Kentucky Bourbon
1/2 cup ketchup
2 tsp lemon juice
1 Tbsp Worcestershire sauce
1 Tbsp malt vinegar
2 Tbsp dark molasses
1/4 tsp liquid smoke
Method
Pour 3/4 cup of bourbon into sauce pan over medium heat. Boil bourbon until 1 Tbsp remains, being very careful of alcohol flaming up.
Add all remaining ingredients including bourbon into pot and slowly simmer for 30 minutes
CLASSIC MACARONI & CHEESE
Ingredients
1/4 cup all-purpose flour
1/4 cup butter
1 quart whole milk
1/2 cup American cheese
1/4 cup Swiss cheese
1 1/2 cups yellow cheddar
1 cup white cheddar
3/4 cup smoked gouda
3/4 cup queso blanco
1/2 bunch fresh chives
1 pound elbow macaroni
2 tablespoons salt
Sauce
2 cups fontina cheese
1 cup mascarpone cheese
1 cup yellow cheddar
1/2 cup white cheddar
Method
Combine flour with milk in a sauce pot and cook for 5 minutes over medium heat while whisking.
Add milk, bring to a simmer while whisking, and cook over low heat for 10 minutes.
Slowly add cheeses while whisking.
Baking
In a large bowl, mix together cooked pasta and cheese sauce.
Place in a baking pan and cover top with the grated fontina, gouda and queso blanco.
Bake at 375 until the top is browned, about 30 minutes. Finish by adding fresh chives as garnish.
GRILLED CORN
Ingredients
4 ears fresh corn (husk and silk removed)
2 Tbsp olive oil
salt and pepper
1 Tbsp unsalted butter
Method
Drizzle oil evenly over ears of corn. Season with salt and pepper.
Grill each side of corn over medium to high heat until corn is evenly charred.
Brush corn with butter while still warm.