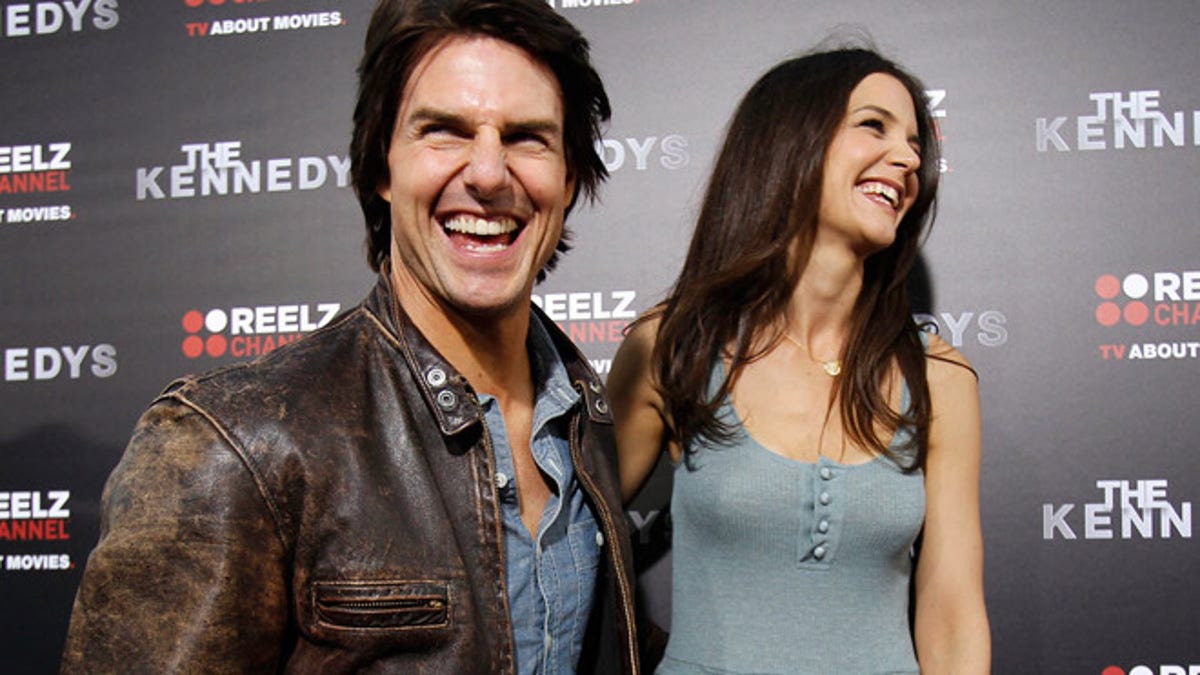 It was the couch jump heard around the world.
Tom Cruise was "in love" with actress Katie Holmes and he wanted Oprah and everyone on planet Earth—or any other planet for that matter—to know about it!
Since that iconic (and some say moronic) display of affection seven years ago, TomKat has become one of Hollywood's most eccentric couples, providing us with some crazy remarks, rumors and photos.
Here are the moments that puzzled us, the rumors that perplexed us, and the stories that made us laugh ... and often cringe.
9. Katie's Staged Pregnancy Rumor
Because Tom's first marriage to Mimi Rogers resulted in no children, and he adopted with second wife Nicole Kidman, the long-running Hollywood rumor of Tom's infertility made everyone scratch their heads at the sight of Katie's baby bump. Pictures revealing Katie's protruding belly button appeared only two weeks after announcing her pregnancy, a commonality that usually occurs in the second or third trimester. Talks of a prosthetic belly began to circulate through the Web, however Suri's ultimate resemblance to mom and dad finally put that rumor to rest.
8. The Marriage Contract
The verdict is still out on this one, but it has been suggested that Tom Cruise interviewed various actresses, like "Modern Family" star Sophia Vergara, for the paid job of being his wife. According to the alleged contract, Holmes was offered $3 million dollars per year of being together, in conjunction with a bonus for having a child. Further suggesting that Cruise is a master at contrived relationships, was the odd coincidence that wives Mimi Rogers, Nicole Kidman and Katie Holmes all divorced the actor at age 33.
7 .The "Fairytale" Wedding
With an A-list guest list that included pals David and Victoria Bekham, Jim Carrey, Jennifer Lopez and Will Smith, TomKat's "fairytale" wedding was as over-the-top and pompous as the quirky couple. Held in an Italian castle, the couple was serenaded by Andrea Bocelli, while guests were treated to a post-reception fireworks show. Pictures of the elaborate affair were featured in People magazine. Even stranger, in the wedding photographs. Tom appeared taller than Katie. Hmm.
6. Katie's "Stepford Wife" Makeover
To go along with her new marriage, in 2007 Katie Holmes decided to reinvent herself with a matronly new image. With a short bob and wardrobe makeover, Katie went from looking like a foxy young Hollywood ingénue to a rich soccer mom from Connecticut. Hidden behind oversized sunglasses and conservative designer duds, Katie teamed up with new bff Victoria Beckham to become a fashion aficionado, a far cry from her girl-next-door demeanor that made her famous.
5. Suri's Burn Book
This hilarious blog written in the voice of 6-year-old Suri Cruise rags on everything from Gwen Stefani's parenting skills to Shiloh Jolie-Pitts missing tooth (surisburnbook.tumblr.com/). The writer—uh we mean Suri—is scathing in her celebrity commentary but it's just too good to resist.
4. The "Dip" Kiss
Trying to turn the heat up on the red carpet, Tom Cruise memorably dipped and kissed Katie Holmes at the 2005 New York screening of "War of the Worlds." Though Cruise was supposed to be promoting his movie, it almost appeared as if his main concern was to promote the legitimacy of his marriage, as he and Katie traveled the world locking lips for the paparazzi at every screening.
3. The 2005 MTV Movie Awards
Giggling like a teenager and trying to seem overly complimentary, Katie Holmes awkwardly presents Tom Cruise with MTV's first Generation Award. Playfully Katie goes off stage to grab Tom but the two don't seem to radiate any chemistry as he gives her a very generic hug/pat before addressing the crowd. The pair walk off stage holding hands, with Katie looking more like Tom's daughter than his young paramour.
2. Katie (Tries) to Seduce Tom
We aren't sure what stands out most about Katie Holmes' 2010 performance of "Whatever Lola Wants" at an LA charity event. From the bad singing to the bad dancing, this performance (which guest stars Tom Cruise) looks like amateur hour at your local theatre. While the actress was attempting to show her sultry side, the end result was something far from provocative—or good!
1. Tom Jumps on Oprah's Couch
What more can we say? Watch it again, for the first time. (And stick around for the end -- you may have forgotten the lengths Cruise had to go to to even get his fiance onto Oprah's stage.)