Are A-list Scientologist scandals hurting the church in Hollywood?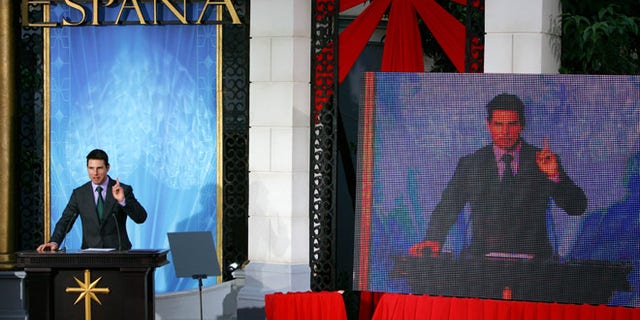 LOS ANGELES – Just a couple of months ago, high-profile Hollywood Scientologist John Travolta was embroiled in a massive sex scandal when several masseurs accused the actor of sexual harassment and abuse.
Around the same time, rumors started to emerge that Scientologist Lisa-Marie Presley may have parted ways with the Church and penned a song about it on her new album, "Storm and Grace." Elvis' daughter reportedly removed mention of Scientology on her website and used the organization's jargon in the track "So Long," with lyrics like "Those are all the people without eyes… Churches, they don't have a soul."
During an interview with FOX411's Pop Tarts column, Presley said she moved to the desolate English countryside to do some soul searching. "I went through a huge transition in my life where everything and everyone I knew and trusted didn't turn out to be that way," she told us. "People that were in my life for a long time turned sinister and tried to control me and all kinds of weird stuff happened."
Then last week, the most famous Scientologist of them all, Tom Cruise, was surprised by wife Katie Holmes' divorce filing and request for sole custody of their daughter Suri, 6, reportedly because she doesn't want their daughter being raised as a Scientologist.
Is all this drama a sign of a rift in the Hollywood/Scientology union?
"I think we are going to see a lot more defections, and a lot of celebrities are starting to wake up to it," Jefferson Hawkins, a former senior marketing executive for the Church of Scientology for more than 30 years and author of "Counterfeit Dreams," told FOX411's Pop Tarts column. "You don't see the big celebrities promoting it anymore. Even Tom has been pretty quiet on the subject over the last few years."
Hawkins said "there is no question that their membership base has been decreasing," and a result there is increased pressure on high-profile members to dig deeper into their pockets.
Oscar-winning director and screenwriter Paul Haggis hit headlines in 2009 when he abandoned the Church, after 35 years, denouncing the San Diego branch for having supported California's ban against same-sex marriage prior to the 2008 election. Haggis, who has two openly gay daughters, also noted in his resignation letter that his wife had been ordered to disconnect from her parents "because of something absolutely trivial they supposedly did 25 years ago when they left the church."
Scientology expert and founder of the long-running, Norway-based website Operation Clambake that seeks to "undress the Church," Andreas Heldal-Lund, flew to the States in 2008 together with Mark Bunker and videotaped actor Jason Beghe speaking out candidly against Scientology, calling it "dangerous," and a "rip-off."
Heldal-Lund started a website on Scientology in 1996 on the subject, and noticed that online information about the enigmatic organization would often disappear. Lawsuits were filed against several Internet newsgroups publishing either confidential or unflattering information about the Church, stirring debate over censorship.
"But over recent years, the organization seems to have lost a lot of its members, and it lost the war against the Internet," Heldal-Lund explained. "We are now seeing a lot my empty churches around the world. They buy these beautiful buildings, and yet there is nobody inside."
Attorney for the Church of Scientology, Gary Soter, strongly dismissed such suggestions that the organization was in anyway suffering financially, or that its relationship with Hollywood was in trouble, calling the critics "self-promoters and apostates seeking to disparage the Church of Scientology for their own self interests."
"These individuals were excommunicated years ago and know nothing about Scientology current practices. They make up stories, and self corroborate them," Soter told FOX411 in a statement. "Scientology is a global religion whose members are growing in numbers."
Soter said Scientology is "enjoying a renaissance, not uncoincidentally, since the departure of these anti-Scientologists."
"You will find this in picture and written form on scientologynews.org where it shows more than 25 new Churches opened and their congregations in major cities around the world, with five new Churches opened in the last five weeks," he added. "These Churches are each enjoying a surge in new members."
The Church, which was granted tax-exempt status as a religious institution in 1993, can still count several Hollywood heavy-hitters in its ranks. Besides Cruise and Travolta, actors Danny Masterson, Giovanni Ribisi and Jenna Elfman are members, as is the singer Beck, while actress Kirstie Alley has said she "would be dead" without the religion's influence in her life.
But according to Marty Rathbun, a former high-ranking scientologist and author of "What is Wrong With Scientology?", the negative attention surrounding its Tinseltown poster children could do some serious PR damage.
"It is hurting them as the world debates the issue while they remain mute," he said. "I expect their leader, David Miscavige, has been driven in to his bunker and we are not likely to see anything effective or definite emanate from the Church."