Meghan Markle, Prince Harry's private reception moment caught on video, briefly shared online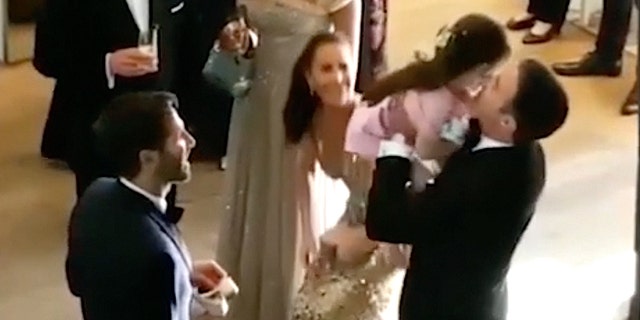 NEWYou can now listen to Fox News articles!
It's the video that offers an inside glimpse into one of the world's most exclusive parties.
Shot by Jessica Mulroney's makeup artist Rachel Renna, the short Instagram clip shows Meghan Markle's close friend mingling with other guests before heading to the second royal wedding reception.
Jessica channels old Hollywood glamour in a gold sequin dress, while the stylist's husband Ben Mulroney looks dapper in a classic tuxedo.
Toasting glasses of champagne, the Canadian power couple and other guests appear in high spirits as they prepare to head to the second, more exclusive celebrations at Frogmore House.
Hosted by Prince Charles inside a $600,000 glass marquee, only 200 wedding guests were invited to attend the night party, which followed on from the ceremony at St George's Chapel and an afternoon reception at St George's Hall.
Guests were instructed to "dress to the nines" for an evening of "old-fashioned glamour and gallons of champagne," The Sun reported.
All 600 guests had earlier been issued with a seven-page etiquette booklet prior to the wedding, with strict instructions to "surrender" mobile phones upon arrival, the Daily Mail reported.
However, Meghan's celebrity friends such as Jessica, Priyanka Chopra and Serena Williams appeared to have bent the rules slightly by posting photos and videos of themselves to Instagram in-between the festivities.
At the evening reception and away from the prying eyes of the public, Prince Harry and Meghan's friends weren't afraid to let loose.
According to The Sun, Meghan's BFF Serena put her tennis playing skills to good use, schooling guests on US drinking game beer pong.
Actor Idris Elba hit the turntables and turned DJ, bringing the house down playing soul, 1960s R&B and 1980s dance hits.
The Sun reports that the wedding reception soon turned into a party atmosphere, with a royal dance-off.
Actor George Clooney took Meghan for a spin on the dancefloor, followed by Kate Middleton.
James Corden instigated an extraordinary dance routine which featured Prince Charles, Prince William and Prince Harry.
Newlyweds Meghan and Harry hit the dancefloor to "I Wanna Dance With Somebody."
"James ­Corden did his best to entertain and it went down an absolute treat," a source told the British newspaper.
"He even compered a dance-off between Harry, Charles and William."
Prince Charles, who left the festivities at 10:30pm with wife Camilla, also ensured guests were well fed and had plenty to drink.
"There were burger bar stalls, whiskey bars, candy floss, games to play, acts performing and a DJ with a dance floor," a source told The Sun.
"There was a gin vermouth cocktail created for Charles and Camilla, who are both massive gin fans apparently."
Those still standing after the joyous, but long wedding day, could at least ease out of their stiletto heels after being gifted with monogrammed slippers at the reception, which ended in an explosion of fireworks around 2am.
Then there was an after-party at Chiltern Firehouse, a late-night hot spot in Marlyebone, owned by the groom's pal, Andre Balazs (Katherine Keating's ex).
"Pretty Little Liars" actor Troian Bellisario — the wife of the Duchess's "Suits" co-star Patrick J. Adams — was a fan of the slippers on offer.
"How amazing is this? Because these shoes have come off, they have slippers for us. Slippers," Bellisario wrote on Instagram.
This article originally appeared on news.com.au.