Media covering first lady Melania Trump as 'missing in action' despite being seen last week
CNN and other mainstream media outlets are painting first lady Melania Trump as "missing in action" despite being spotted by at least one reporter and being scheduled to appear at a White House event on Monday evening.
News broke on Sunday night that the first lady will not join her husband at the G7 summit in Quebec later this week and there are "no plans" for her to travel to Singapore to meet with North Korea's leader later this month. This was used as the impetus by CNN to harp on her recent absence from the public eye following a mid-May kidney procedure.
CNN's "Reliable Sources" newsletter led with a giant graphic of a calendar, placing question marks on each date since Mrs. Trump was "last seen" on May 10. Beneath the graphic, the newsletter specifically stated that she was expected to attend an event on Monday to honor Gold Star families.
"BUT BUT: The event is closed to the press, so Monday evening may not resolve the mystery," CNN's Brian Stelter wrote. He made a similar argument on Twitter, writing "if the event is closed press, it means the 'Melania hasn't been seen in public' issue will linger."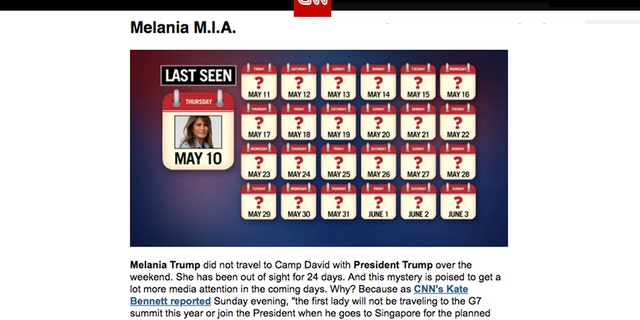 Daily Caller media editor Amber Athey fired back, referring to the matter as "The 'issue' that was created by baseless speculation from outlets like CNN."
The Federalist contributor Erielle Davisdon chimed in, saying CNN is 'inventing problems so that they can then report on it."
Earlier in the day, Stelter's addressed the situation on-air and declared that we "need more reporting and less speculating," before noting that liberals are at risk of falling into a "conspiracy theory trap" regarding the first lady.
CNBC's Eamon Javers tweeted back on May 30, "Not that this will deter the conspiracy theorists, but I saw the First Lady walking with her aides in the West Wing yesterday afternoon."
Several people took to Twitter to point out that the first lady was seen in the West Wing as recently as May 29 — but Stelter downplayed the sighting as irrelevant because it was not seen by the public.
"Go ahead and imagine how you'd feel if a different First Lady wasn't seen in public for 3+ weeks," Stelter wrote.
Pollster Frank Luntz asked, "If NBC reporters can see her in the West Wing, is it not public? They weren't sneaking around with snake cameras through air vents."
Mrs. Trump – a notoriously private person – stayed behind Friday when President Trump and several family members went to the Camp David retreat for the weekend. While she hasn't made a public appearance since before her five-day hospital stay for treatment of a kidney condition, she has been seen around the White House.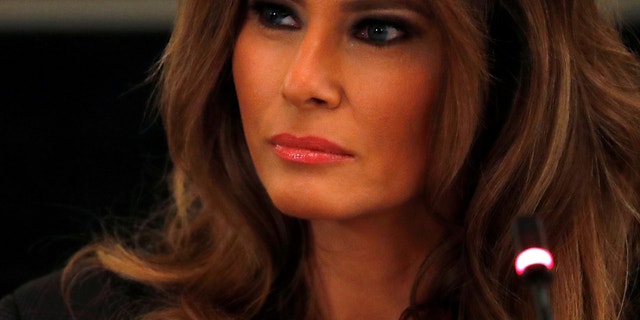 Mrs. Trump took to Twitter last week to dispel rumors circulating about her whereabouts and her spokeswoman has stated that the first lady has been meeting with staff and working on projects.
"I see the media is working overtime speculating where I am & what I'm doing," Mrs. Trump tweeted. "Rest assured, I'm here at the @WhiteHouse w my family, feeling great, & working hard on behalf of children & the American people!"
CNN reporters aren't the only ones questioning the first lady's whereabouts.
NBC News published a story headlined, "Why Melania Trump's vanishing act matters," with a subhead "The disappearance of a first lady means that, for now, the White House is playing without a full roster."
The liberal, anti-Trump corners of the Internet are filled with conspiracy theories ranging from a health issue to speculation of domestic violence. Rolling Stone senior writer Jamil Smith wrote, "I wish that I didn't suspect that the prolonged, poorly explained public absence of Melania Trump could be about concealing abuse. I wish that it was a ludicrous prospect."
ABC News' "The View" spent a segment on Monday speculating that her kidney procedure was worse than reported before co-host Whoopi Goldberg declared, "She's fine. Sometimes people just don't want to be out in the public."
"Whatever you think of Melania, her disappearance became a major Donald Trump scandal when he and his folks began lying about it. So yes it's newsworthy. Don't even try to tell us otherwise," political blogger Bill Palmer wrote.
Actress Bette Midler tweeted that it's "Ominous" she hasn't been seen in public before joking that maybe she just has a bad haircut.
"Maybe she just drunk-cut her own bangs and doesn't want to upset her fans," Midler wrote. "I've done that plenty of times!"
Others took to social media to defend Mrs. Trump and mock the concerned liberal pundits.
"If you think there will be any pleasing the conspiracy theorists, recall that Melania once appeared in front of cameras, in public, and Resistance Twitter insisted it was a body double."
"That there are Melania Truthers in the media and other Resistance power centers is a good way to summarize how absolutely insane and incompetent Trump makes some people," Mollie Hemingway wrote, while New York Post editor Seth Mandel suggested everyone should give her "a bit of air."
Free Beacon reporter Alex Griswold wrote, "If you think there will be any pleasing the conspiracy theorists, recall that Melania once appeared in front of cameras, in public, and Resistance Twitter insisted it was a body double."
Independent Journal Review reporter Caleb Hull joked, "It's only a matter of time before the Obama bros start sharing a photoshopped picture of Melania in a cage at the border and claiming ICE deported her which is why she hasn't been seen."
While Mrs. Trump is catching flak for skipping upcoming events, Michelle Obama once said it was "very rare" for her to travel abroad during the Obama administration.