Mario Lopez, Wife Courtney On New Dance Show: It's All About The Chemistry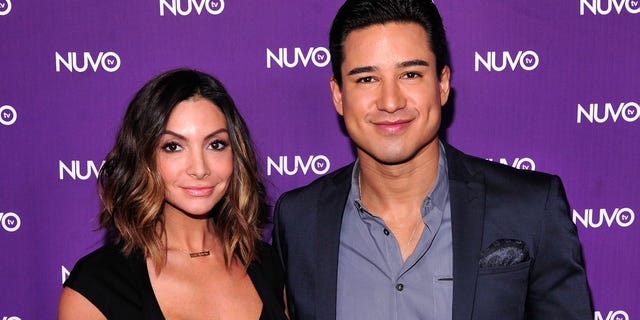 NEWYou can now listen to Fox News articles!
Latino heartthrobs Mario and Courtney Lopez are adding a new "twist" to the typical dating game. Inspired by their real life love story, their new series "Love & Salsa" combines the chemistries of dance and match-making.
Courtney, a spicy professional dancer herself, hosts the show; Mario, the season 3 runner-up on "Dancing with the Stars," produces it. The duo met back in 2008 during the production of the Broadway revival of "A Chorus Line." But before they meshed on the dance floor, even these love birds got off … on the wrong foot.
"For the roll Mario played in the show, he sat at the back of the house, stage left. We hit it off in the wings; but it took a while for us to connect," Courtney says. "It was our passion on the dance floor."
The Lopezes took their experience and created a dance toward a romance game show.
"I figured it would be fun if we combined a bachelor and bachelorette, with choreographers. There's a sense of vulnerability when the two meet, then the chemistry or lack thereof, and the audience votes," Mario says. "It's been a lot of fun. It's sexy."
In the beginning of the show, the single participant meets three potential daters. They ask them three rounds of questions and after narrowing down their potential romantic partners to two, they go into a dance studio where they get to meet the instructor and dance with each other one-on-one.
"If you can hit it off on the dance floor, you can do anything," Mario says. "I always thought dancing was something that shows if you have true chemistry together."
Chemistry or not, the best part about the game show is you don't need to be a professional dancer to take part.
"Think of it like 'Silver Linings Playbook': Jennifer Lawrence and Bradley Cooper," he says.
"All you need is a love for dance. It could be someone who spends their nights at a salsa club, or just dances for fun. It's all about the chemistry."
This is the first time the Lopezes have worked together since the birth of their second child, but they say that won't stop them from adding one more little one to their ensemble.
"I think we'll have to make it an even three," he says.
Love & Salsa airs Tuesday nights at 10pm on NUVOtv.
Follow us on twitter.com/foxnewslatino
Like us at facebook.com/foxnewslatino