Luke Bryan gets embarrassed when shown booty-shaking viral video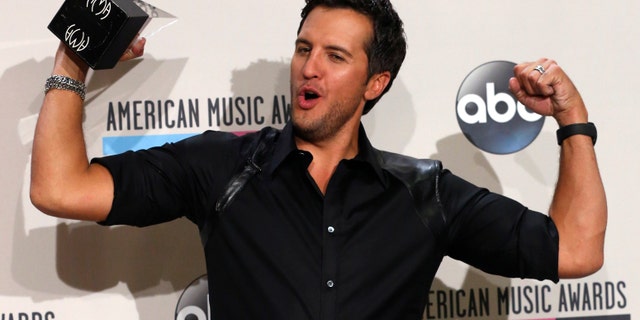 Fresh off winning at the "America Music Awards" Luke Bryan popped into "The Ellen DeGeneres show" on the November 27 episode to croon "Drink a Beer," and delight the audience with his down home charm.
The 37-year-old singer admitted to being nervous performing on the award show.
"Anytime you're on stage in front Justin Timberlake and Gaga and all these people that are worldwide superstars, and you got ol' country bumpkin Luke Bryan up there…I'm going to have to shake it a little extra to keep 'em going," he confessed.
The talk show host then played the viral video of Bryan suggestively shaking his hips in concert which made him a little flustered.
"I didn't know it looked like that!" he said bashfully while the audience hooted in appreciation.
He also seemed amazed to have sold out two nights at Madison Square Garden in New York admitting that it was, "a big dream come true."
DeGeneres flashed a photo of Bryan's truck sitting in a big ol' catfish pond. He sheepishly admitted to leaving the vehicle in drive while he went to feed his catfish.
"It's totalled," he confessed. "Chevy, they make 'me good but they're not going to recover from that.. (there were) catfish eating food inside of my truck!"