Lionel Richie: Michael Jackson's Kids Under Pressure, Could Pursue Careers in Music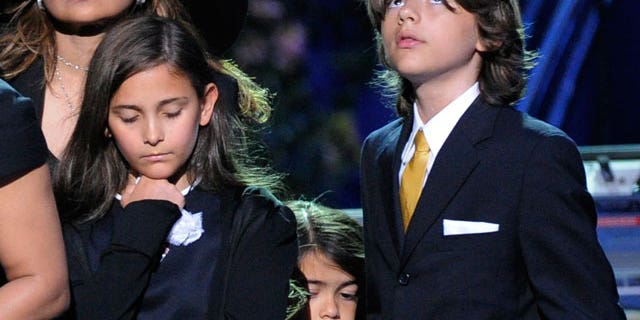 Prince Jackson was slated to make his stage debut alongside his father Michael Jackson during his comeback tour in London last year, and while that moment never came due to Michael's death, his close friend Lionel Richie still believes a career in music is very possible for the 13-year-old.
"Blanket, 8, is a little too young, he's a little overwhelmed with the whole scene but I think if anyone's going to do it, it will be Prince. Paris, 12, is of course just a sweetheart," Richie told Pop Tarts at the Country Music Hall of Fame and Museum's "All for the Hall" fundraiser in Los Angeles last week. "But it's so much pressure. I remember when Nicole (Richie) was growing up everyone was like, 'are you going to be a singer?' and the answer was just no. It was so much pressure. I didn't push her."
Richie also said that Jackson's three children, who just started attending school for the first time in their lives this year (they were previously homeschooled), are finding the experience "great", and he just hopes that they don't succumb to the pressure of having to be like their father, should they decide to tackle entertainment industry careers.
"We will discover in the future if that's what they want to do, but what a great legacy to come from," he continued. "But when you come from such a heavy beginning, sometimes we expect too much so we'll see."
On the subject of music and expectation, Richie also weighed on last week's revelation that Steven Tyler and Jennifer Lopez have officially joined Randy Jackson to front the new "American Idol" judging panel. While he's a fan of all three, he believes if someone doesn't come forth as the Simon-like critic it could spell disaster.
"It is just diverse enough to be interesting; I think they did a good job. If you had asked me separately, I don't know, but I saw them all together and it works. If they do it correctly they will create another personality," Richie explained. "Somebody is going to emerge – maybe not as direct as Simon. It is like directing a Broadway musical or a movie. The first 'James Bond' did it this way, the second 'James Bond' did a different way – it isn't quite as Sean Connery did it, but it's a different thing and that's what they are going to have to do. If not, it is going to be disastrous."
And although it's a smooth move from his day crooning for The Commodores, the 61-year-old is getting ready to release his first country album.
"I can't believe it. I've been in Nashville for so long working on this record!" he exclaimed.