Lindsay Lohan: I Know I'm a 'Damn Good Actress'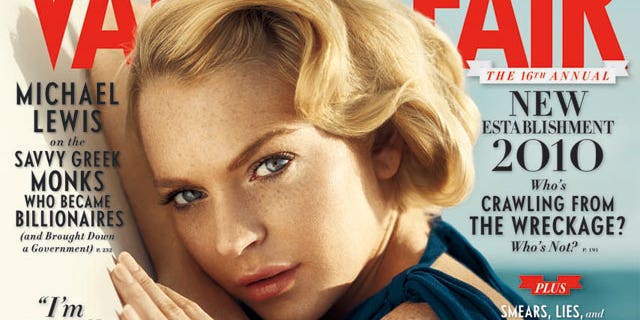 NEWYou can now listen to Fox News articles!
Actress Lindsay Lohan says she is ready to give up clubs for her career.
In a new interview with Vanity Fair magazine, given a week before she entered jail, Lohan says she is looking to move on with her life and get back to work in Hollywood.
"I don't care what anyone says. I know that I'm a damn good actress," she tells the magazine.
But she isn't taking all the responsibility for her demise, taking time to call her father Michael Lohan out for most of the "trauma" in her life, in addition to other people around her.
Lohan added that she has not ever abused prescription drugs and said she has been open about the things she has done.
SLIDESHOW: Images From Lindsay Lohan's Vanity Fair Cover Shoot
"I've admitted to the things that I've done—to, you know, dabbling in certain things and trying things 'cause I was young and curious and thought it was like, O.K., 'cause other people were doing it and other people put it in front of me. And I see what happened in my life because of it."
Lohan attributes the "dabbling" to the pressures of being young in Hollywood and wanting to emulate other stars.
She says tabloids were her main source of news, and calls that "really scary and sad… I would look up to those girls… the Britneys and whatever. And I would be like, I want to be like that."
Still, she says she is not the addict that the world makes her out to be.
"If I were the alcoholic everyone says I am, then putting a [scram] bracelet on would have ended me up in detox, in the emergency room, because I would have had to come down from all the things that people say I'm taking and my father says I'm taking—so that says something, because I was fine."
"I think my biggest focus for myself is learning how to continue to get through the trauma that my father has caused in my life," she added. "The worst part of it is you turn around (in the courtroom) and you see your dad crying and normally you'd be, like, happy that your father's there. But then he has to go and do an interview right after."
Now, Lohan says she has grown up and moved on.
"I know that in my past I was young and irresponsible—but that's what growing up is. You learn from your mistakes," she said.
The October issue of Vanity Fair hits newsstands on Tuesday, September 7.
MORE FROM VANITY FAIR:
Read more from the exclusive interview with Lindsay Lohan at Vanity Fair
Video: Behind-the-scenes at Lindsay's Vanity Fair cover shoot
Photos: Angelina Jolie in Vanity Fair
Penelope Cruz's Sexy Vanity Fair Photo Shoot