Lin-Manuel Miranda: Most rewarding part of 'Hamilton' success is inspiring students to dream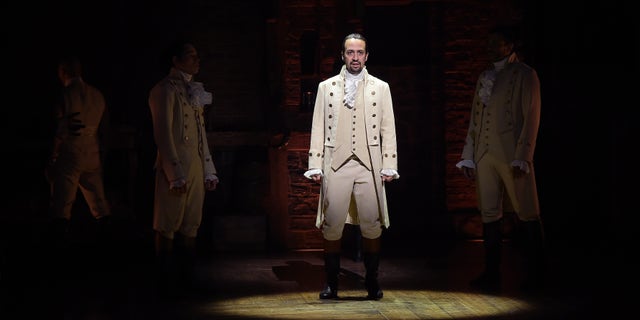 New York – When playwright Lin-Manuel Miranda started writing his concept album about former Treasury Secretary Alexander Hamilton, he knew one thing for certain: if he was successful, teachers would love it.
It became even more apparent after his 2009 White House performance of what would later become the title song for his Broadway hit "Hamilton."
"I knew teachers were really going to like me for writing this show because I did that first performance at the White House in 2009 and I had already heard of teachers using that one song in their classrooms," he told Fox News Latino before his matinee performance last week. "So if nothing else, we will have an audience of teachers and we will maybe get some school groups."
He said he was confident the show would have a nice run if it turned out well.
"No one can anticipate what's happening – it doesn't happen to works of theater," he said. "The kind of engagement and the kind of involvement from people..."
Since "Hamilton" premiered last August, it has become the most sought-after ticket in the Great White Way – tickets are sold out through the New Year. It has won a Grammy and recently won a Pulitzer Prize for Drama.
Miranda, the 36-year-old "genius" behind the hip-hop musical, said the excitement from fans created a new movement that he never thought was possible.
"I get teenagers tweeting me when it's Thomas Jefferson's birthday," he said with a laugh. "I get teenagers asking 'Do you know it's the anniversary of the battle of Yorktown?' It sparked an interest way beyond anything I could have anticipated. It's thrilling and exciting."
Tapping into this excitement from educators and students alike, the company has created an education program. Earlier this month, the Richard Rodgers Theatre welcomed its first batch of 1,300 local students.
"It's actually the best part (of all of this)," Miranda told FNL, "because one, it's wonderful that 20,000 students from public schools are going to get to see the show this year alone, but it's also selfish because they are the best audiences you could ever ask for."
He said the students gasp during the show and scream during the Cabinet rap battles.
"So it's actually wonderful for us as actors to get an audience that engaged," he said. "It's heaven."
The Tony winner focuses on the immigrant experience in the United States with his tantalizingly masterful "Hamilton" lyrics. It is his story; his father's story and that of millions of Americans since the country's creation, he said.
"It's not capital P political. It's just a reminder that the life source of our country, the renewable life-blood of our country has always been people who come to this country to define themselves and to build lives for themselves," Miranda said. "By making a life for themselves, they often work twice as hard and make our country better."
He said through his show he wanted to remind people the contributions immigrants have made to America.
"That story of people coming here from other lands and then coming all-in in our country is always a story worth telling because you will never hear it in political discourse," he said. "You need art to remind you of that."
In Hamilton – the founding father – Miranda said he found a singular story that felt familiar to him.
"He came from the Caribbean – of course this guy has a relentless work ethic," he said. "The people that I know in my life are immigrants to this country or are children of immigrants. They have a drive because it's a part of who we are and it made me understand him in a real way."
"What's really exciting is that it's the beginning of a conversation. This is just one story and it's not even one story, it's as much of one story that I could fit into an evening of musical theater entertainment," Miranda continued. "That's where we start and there is even more."
As for what he thinks the actual Hamilton would say about the success of the show, Miranda had this to say:
"I think if the historical Hamilton found out that a Nuyorican was playing him in a Broadway musical, he would say, 'What's a Nuyorican?' and then he would write many paragraphs about it – I don't know whether pro or anti," Miranda joked. "He'd write something because he couldn't stop."