Lil Wayne Caught With Contraband Behind Bars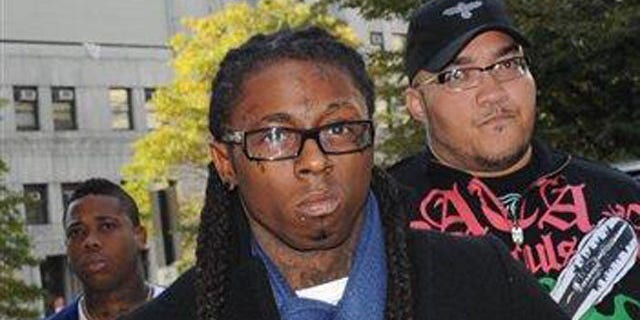 Rapper Lil Wayne has been caught with unauthorized contraband at New York City's main jail complex, a New York Department of Correction source tells FoxNews.com.
Wayne was found in possession of an MP3 charger and headphones during a routine search at the Rikers Island facility on Tuesday morning, according to an official close to the matter who requested anonymity due to an ongoing investigation.
"We found the items wrapped in an aluminum potato chip bag, in a garbage can," the source told FoxNews.com.
Inmates at Rikers Island can purchase a standard AM/FM radio and headphones from the jail's commissary, but the items Wayne possessed are not allowed.
A subsequent search of the housing area where Wayne is jailed led to the discovery of an MP3 player in the cell of another inmate, the source said.
Both Wayne and the unidentified inmate will be charged with infractions -- possession of contraband. It was not immediately clear what penalties they face.
"Some discipline can follow," said the source, adding that the MP3 player in question was not an iPod.
Officials at Rikers Island are now investigating how the items got into the jail and the relationship between Wayne and the unidentified inmate. They have been separated into different housing areas, the source said.
Prior to beginning his yearlong sentence for attempted criminal possession of a weapon, Wayne told Rolling Stone he planned to keep busy while behind bars.
"I'll have an iPod, and I'll make sure they keep sending me beats," the rapper told the magazine.