'Last Man Standing' star Nancy Travis talks returning to hit sitcom, playing Michael Douglas' love interest in 'The Kominsky Method'
Nancy Travis has been reunited with co-star Tim Allen and it really does feel good, she says.
Their sitcom "Last Man Standing" was resurrected by Fox in May for Season 7, after ABC canceled it in 2016.
Travis, 57, said there's no denying fans can easily identify with the series and its beloved everyday characters.
"First of all, I think and I've always thought that 'Last Man Standing' is a relatable, funny, entertaining show," she told Fox News. "And it's about family. It's about family that cares about each other. And I think at the end of the day, with gosh, so much going on in the world, it's great to be able to laugh."
"Last Man Standing" tells the story of a married father of three who tries to maintain his manliness in a world often dominated by women. It averaged 8.3 million viewers in Live + 7 ratings for the 2016-17 season on ABC. It was the network's second most-watch comedy after "Modern Family."
"It's like no time has passed," the actress told Fox News. "I mean honestly when the show was canceled, we were both stunned. And just feeling like a family that's [been] broken apart. And the wonderful surprise of having the show picked up again, and picked up with such open arms by Fox was fantastic. And we are back working. We have the full support of the network and we're making working shows. And it's like no time has passed. We're really having a great time."
However, ABC canceled the sitcom in May 2016 despite its high ratings. Many speculated at the time that the network axed the series over its politics — a rumor that ABC vehemently denied at the time.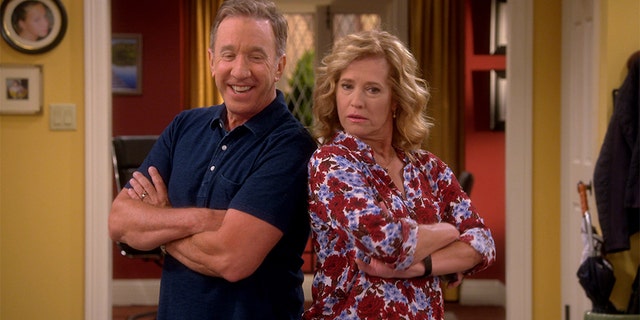 "It's great to be able to even see yourself in a show and find that familiar [face] and just be able to laugh… As entertainers, we can bring that to people so they are just not mired in things that are happening around them. It's great escapism," Travis noted.
After ABC's initial success with the reboot of "Roseanne," which featured a pro-Trump character, calls for the network to bring back "Last Man Standing" were revived.
Allen, 65, a conservative himself who has voiced his support for Trump, plays Mike Baxter, who is also politically conservative on the show.
Still, Travis said she wouldn't exactly consider "Last Man Standing" to be a political show. Instead, she clarified it aims to be a feel-good series, one that offers various opinions and voices, much like what you would find in many American households.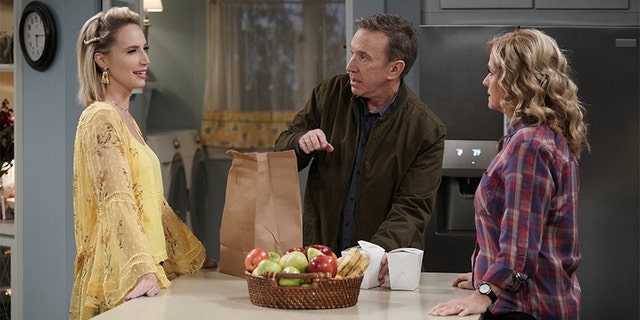 "It's funny, I don't think of it as a political show," she said. "It's got a conservative guy as its lead character, and then everyone just sorts of moves around that. And people have different opinions on the show. But ultimately, they're family. And the different opinions are not necessarily political.
"They could be simply about what you're having for dinner. And have a whole episode about that. Or how to raise your son… I think the idea is people have their points of view, but they're getting through the day humorously."
"Last Man Standing" isn't the only comedy Travis is busy with these days. She's also starring in the new Netflix comedy "The Kominsky Method," which stars Alan Arkin and Michael Douglas. The show explores how an aging actor (Douglas) who long ago enjoyed a brush with fame, is now making his living as an acting coach. Travis plays Douglas' love interest, Lisa.
"What I loved about it was the juggling of real-life situations with humor," she said. "The scenes we have together are really, really comical… But really kind of relatable."
While Douglas, 74, is best recognized for his more serious, dramatic roles in films, Travis shared audiences will be pleasantly surprised to see Douglas' performance in the streaming series.
"Michael, he's so, to me, the every man," she explained. "So when you see in him something, you just follow him, and believe him, and really relate to what he's going through. And I think for him, he hasn't been on TV since 'The Streets of San Francisco,' which was I don't know, 40 years ago? And I just think this was, speaking for him, a great opportunity. And a fun character, a terrifically fun character. And then you have Alan Arkin, which is a huge draw. So the two of them have great chemistry, and its a wonderful show."
Also, the concept of the aging actor hits close to home for Travis, who has been making her mark as an actress since her first major film debut, 1987's "3 Men and a Baby."
"I feel like 'The Kominsky Method' certainly for me is an anomaly," she said. "There are women working, but I still think it's a cruel business in terms if portraying older actresses and older women, frankly, in realistic ways. And in 'The Kominsky Method,' I play a woman who is still looking for love, still sexually active, still weighing choices and not just a cliche. So that's a wonderful thing, too."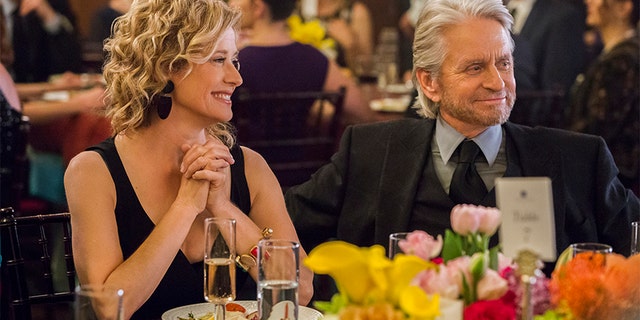 Travis is aware she's busier than ever in Hollywood now — and she wouldn't have it any other way.
"What's motivating me? Probably the same thing that's motivating the guys in 'The Kominsky Method,'" she explained. As one character Sarah Baker says to Michael Douglas, she plays his daughter, that he has a fear of death. And I think for me, it's not that. But I love what I do. And I like to be busy and be doing it. And I'm so grateful and blessed to have opportunities [as] I have. So I say yes to everything. Maybe for me, it's the fear of standing still."
"The Kominsky Method" is currently streaming on Netflix.