Kevin Spacey Denies Getting Paid For Selfie With Mexican President Enrique Peña Nieto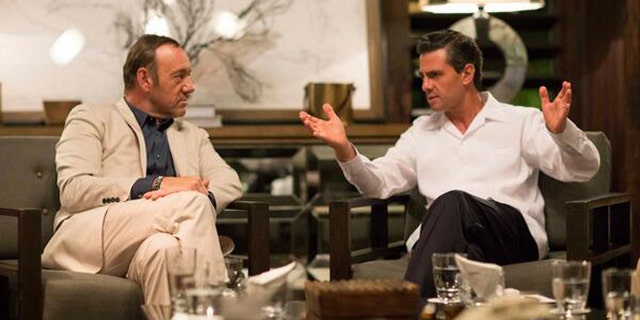 Actor Kevin Spacey made headlines when he was photographed with Mexican President Enrique Peña Nieto while on a trip to the Latin American country last week.
The "selfie" immediately drew criticism after it was reported that the "House of Cards" star was paid to pose with the president.
The 54-year-old actor was quick to deny that he was paid $8 million – or any other amount – by the government to take the picture, as reported by several outlets.
"Story about Mex Gov paying 8m or any amount for selfie not true! Was In Mex for Tourist Board event. Meeting President not planned at all," he tweeted in English and Spanish.
Meanwhile, Rodolfo Lopez Negrete Coppel, the head of the Tourism Board, which hosted the event with Spacey in Mexico, revealed to Forbes that the actor was paid, though the $8 million figure was "wrong and without source."
But Negrete Coppel did not reveal how much the actor was paid. He also did not mention if Spacey was paid for attending the event or taking a photo with the President.
Controversy arose when Spacey, who plays a politician who becomes president of the United States in the popular Netflix series "House of Cards," posted a selfie with Peña Nieto.
"1 President is real. W/ Pres Nieto in #Mexico. Good meeting a man also making progress in his 1st year in office. @EPN."
His initial response to the controversy was a tweet that said: "I guess nobody got the joke. I was in character as Francis Underwood in House of Cards, not myself! I don't know jack about Mexican politics."
Spacey, who was in Mexico for the Tianguis Tourism Fair, which was held in the Caribbean resort city of Cancun.
Follow us on twitter.com/foxnewslatino
Like us at facebook.com/foxnewslatino