Kerry Washington: We spend too much time only talking to people who agree with us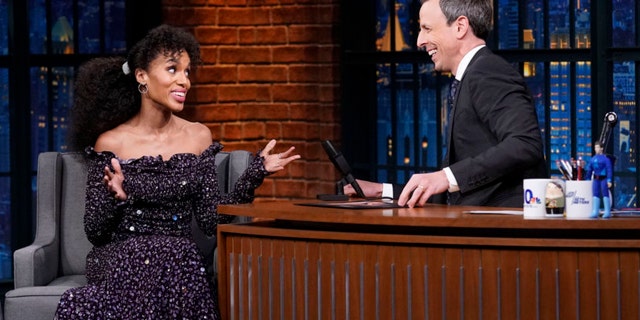 Actress Kerry Washington explained the importance of listening to those who think differently than you do while appearing on "Late Night With Seth Meyers" on Monday night.
Washington, best known for her Emmy-winning role as Olivia Pope on the ABC drama "Scandal," marks her second stint on Broadway as a mom of an 18-year-old son who goes missing after an incident with the cops in "American Son." "Late Night" host Seth Meyers pointed out how the play tackles serious topics such as race, gender, class and police brutality.
"It's a black mom and a white dad and they are desperately looking for their 18-year-old son, who has disappeared and had some kind of incident with the cops but we don't know what," Washington told Meyers. "So it's like our 80 minutes of fear and anxiety."
Washington then explained what she "loves" about doing such an intense play and how it pertains to the current political climate.
"It really is like people having all of these very private conversations but in public, like saying things that some people say to the people they're closest to but may not say to someone outside of their comfort zone. And so I love that," Washington continued. "I feel like in today's world, we spend a lot of time only talking to people who agree with us and like only watching the version of the news that makes us feel better, which I understand because these are stressful times. But I also think it's really important that we make time to listen to each other, to matter to each other, and for these 80 minutes in the dark, you are forced to really listen to [people who] agree with you and also people who don't. And I feel like the play is kind of a prayer. It's like an adventure in mattering to each other and like opening our hearts to really hear each other."
Washington made her Broadway debut back in 2009 in David Mamet's play "Race." "American Son" is currently playing at the Booth Theater.