Kenny G says Kim Kardashian 'didn't know what to do with herself for a minute' during Valentine's Day surprise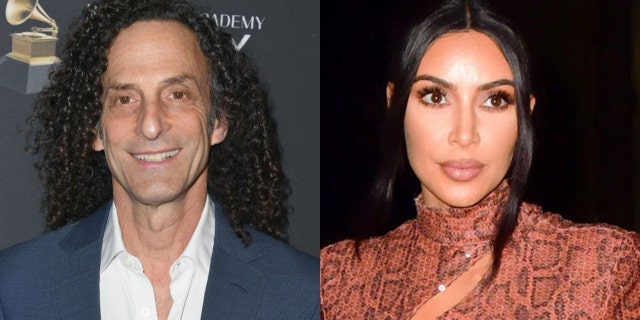 Saxophone player Kenny G, who's been a hot topic of discussion following his serenade of Kim Kardashian on Valentine's Day, has offered up details about how the event, orchestrated by her hubby, Kanye West, came to be.
The famed musician received a few late-night emails, including one that came from a publicist who knows West's manager, he told Rolling Stone in an interview, published Friday, that followed the romantic event.
"He told me that Kanye had requested me to come to the house and serenade Kim in the morning," Kenny G explained. "'It's going to be a room surrounded with roses, and you're going to stand in the middle of the roses and play.' I thought, 'That actually sounds really beautiful.'"
CHRISSY TEIGEN QUESTIONS KIM KARDASHIAN'S ELABORATE VALENTINE'S DAY SURPRISE FEATURING FAMED SAXOPHONIST
The situation "just happened to work out" since he was in the area at the time," he told the outlet.
Due to rainy conditions outside, Kenny G arrived at the home early and was greeted by numerous people working to pull off the feat, he said. He also talked with West, who "could not have been nicer," he told Rolling Stone.
The room he played in, seen in a video posted on Twitter by Kardashian, was filled with clear vases that each held a single rose. The room was flooded with red, pink and white flowers.
As for the room's presentation, the team was "putting all this stuff together" when he walked in so it wasn't until "literally 20 seconds before" things got rolling did he see the finished result, he said.
KANYE WEST SURPRISES WIFE WITH A KENNY G SERENADE FOR VALENTINE'S DAY
Kenny G kicked off the personal performance before spotting the reality star, telling Rolling Stone that she appeared shocked and pleased when she walked in.
"I started playing before I saw her. She was coming around a corner, and I got the nod from Kanye to go," he explained. "And so I started to play, and when she came, she just went, 'Oh my God,' and then she looked at me and was smiling and just kind of stopped. She didn't know what to do with herself for a minute. Then she got her phone out, which was awesome."
CLICK HERE TO GET THE FOX NEWS APP
Kardashian tweeted her glee at the surprise, writing: "NO BIG DEAL KENNY G IN MY LIVING ROOM!!! Happy Valentines Day"
She later added that West got the "best husband award."
Fox News' Stephen Sorace contributed to this report.