Kenneth Cole's Controversial Social Media Campaign Trivializes Serious Issues, Critics Say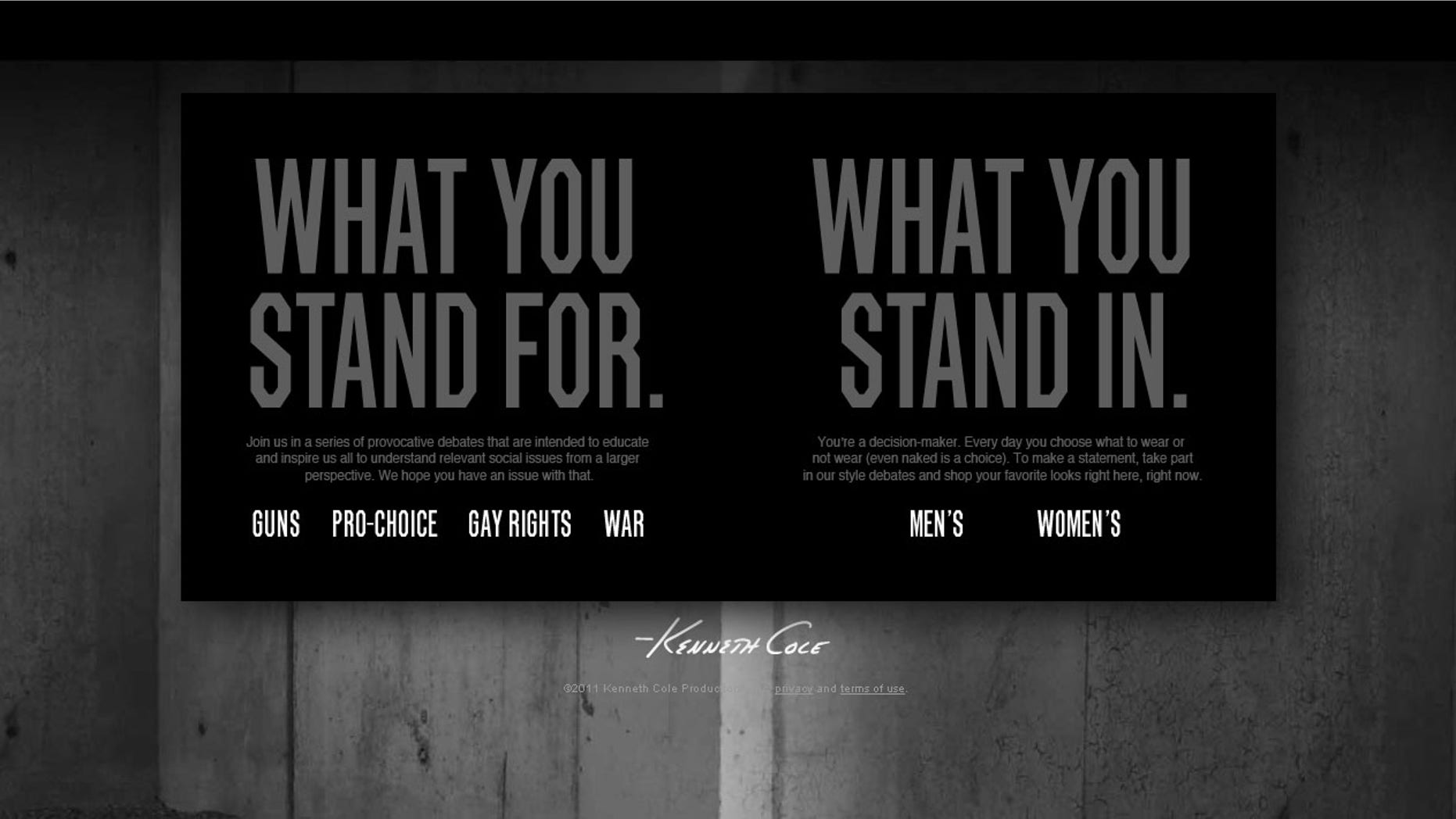 What do handbags have to do with abortion?
That's what some want to know following the launch of a controversial social media campaign by fashion designer Kenneth Cole.
His campaign, called "What Do You Stand For," asks people to weigh in on hot-button topics, such as gay marriage, abortion, gun control and war, and it attempts to ignite debate using what critics say are simplified, loaded questions that trivialize serious issues.
Fresh off the heels of his notorious tweet during the Egyptian uprising, in which he suggested the "uproar in Cairo" was sparked by his spring collection, his latest foray into political issues just might be enough to alienate potential buyers who don't want to buy a lecture along with their loafers.
"It might alienate people. It might turn people off from his brand, but that's the point," Fashionista.com executive editor Leah Chernikoff told FoxNews.com. "Maybe he doesn't want those people buying his clothes."
The split-screen website features an interactive layout, where users can click on "What Do You Stand For" and are asked more pointed questions, such as "Are anti-war protests unpatriotic?" and "Is prejudice against same-sex marriage a form of minority discrimination?" Answers are boiled down to a simple yes or no in a Facebook-style "like." Other questions include, "If gun owners are 4.5 times more likely to be shot in an assault, are guns an effective form of self-defense?"
The second part of the site is less divisive. Labeled  "What You Stand In," that portion is essentially a forum for discussion of fashion.
Click a button that says "pro-choice," and the user comes to the question "Does the government have the right to choose?" The woman shown appears to mull a difficult decision. That difficult decision later turns out to be which handbag to purchase, not an abortion. This is the part of the site that is generating the most concern.
Pro-life advocates say their opposition comes not because of the in-your-face pro-choice agenda, but because of how Cole makes light of the issue.
"It so trivializes the issue. I think it would be offensive to anyone on either side of the abortion issue," Eric Scheidler, the executive director of the Pro Life Action League, told FoxNews.com. "Even staunch supporters of abortion will admit an abortion is an anguishing decision and to compare it with buying a handbag is really offensive to women. Of course I also find it deeply offensive to the sanctity of the life that hangs in the balance."
Scheidler added that he would no longer consider buying anything from Kenneth Cole and that he would encourage family and friends to avoid the designer's products.
Kenneth Cole says the campaign is an attempt to recapture its heritage and maintains that the designer is simply using his celebrity status and public platform to inspire discussion around social issues.
"Kenneth Cole Productions has historically used its advertising to communicate relevant social messages. Our 'Where Do You Stand?' campaign is intended to inspire a meaningful dialogue amongst customers and like-minded individuals around provocative and, at the same time, defining social issues."
But some fashion insiders believe Cole is using controversy to survive in a down market.
"It's an obvious PR move," Chernikoff said.
Stylist and fashion expert Mary Alice Stephenson agrees. "Nowadays it's a battle for the buck," Stephenson told FoxNews.com. "Whether you love it or you hate it, it does make you look and that's what designers need to do because these days the clothes just don't sell themselves."