Keira Knightley 'scared' to go outside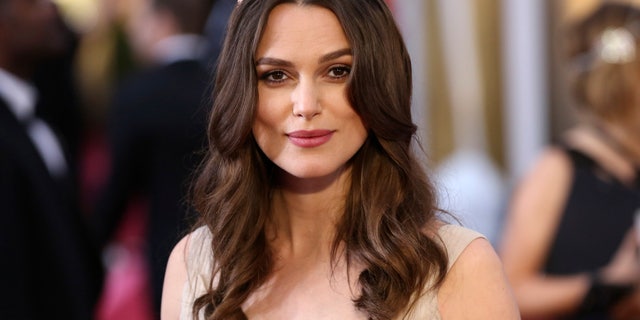 A stalker who made meowing noises through Keira Knightley's letterbox left her terrified to go out, a court heard.
Mark Revill, 49, repeatedly visited the actress's north London home, delivering letters and postcards featuring cats and a USB stick containing a song he wrote called "The Fuzzy Kitty Waltz."
Revill, who recently changed his name to Mark McCattipus, sent her a note asking her if she had listened to the music, and also wrote two letters to her mother.
One picture of two cats she received was labelled, "That's you on the right, the stupid looking one, and that's me on the left."
In an emotional impact statement read to the court, Keira said, "This man has caused a lot of ­distress and panic. I'm scared every time I go outside. When I return home I have to look behind me, I don't know who might be in the shadows."
The "Pride and Prejudice" star added, "The thought of my daughter being at risk is my worst nightmare."
Keira turned her $4.9 million North London pad into a hi-tech fortress, adding state of the art CCTV and high security shutters after Revill drew a chalk arrow pointing to her door.
The "Pirates of the Caribbean" star also instructed civil lawyers to approach Revill and ask him to leave her alone.
Highbury corner magistrates heard how Keira's husband and dad to 18-month-old Edie, former Klaxons keyboard player James Righton, 33, had to chase the convicted flasher away.
The young family are now looking to move house following the emotional trauma.
Keira said, "We loved living in this borough for two years. My family enjoyed visiting local shops and playing in local parks, and being close to the heartbeat of London. We are now looking to move house outside of the borough. We had hoped our child would go to school here. When I return home I have to look behind me concerned, I don't know who might be in shadows."
Revill, of Hackney, who changed his name to Mark McCattipus, admitted stalking, claiming he is love with the star, although he had been approaching her primarily to promote his music.
He has a previous conviction for indecent exposure after sending letters female member of staff at a hospital, booking tickets and planning days out with her, before turning up at her home address completely naked.
He got eight weeks' suspended jail and a restraining order.