Katy Perry 'Dark Horse' video scrubbed after petition by Muslim critic surfaces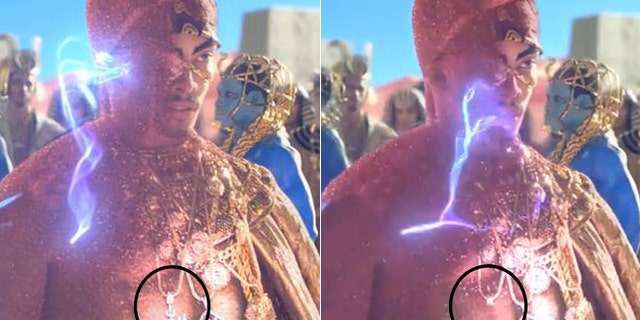 LOS ANGELES – An Islamic symbol has been removed from the online version of the Katy Perry music video for 'Dark Horse' after an online petition claimed it was offensive to the Muslim religion.
"At 01.15 into the video a man is shown being burned, whilst wearing a pendant (also burned) forming the word 'Allah' which is the Arabic word for God," wrote Shazad Iqbal in a Change.org petition calling for the video to be removed from YouTube. "Such goes to show, that blasphemy is clearly conveyed in the video, since Katy Perry (who appears to be representing an opposition of God) engulfs the believer and the word God in flames."
Over 60,000 people signed Iqbal's petition, and apparently someone involved with the video listened. While the video has not been taken down, as the petition called for, the pendant Iqbal mentioned has now been erased.
Some say the move is off base, and that the controversy over Perry's video spotlights a double-standard, as artists like Lady Gaga and Madonna repeatedly use Christian symbols in music videos in ways that offend some Christians.
"The image of the pendant goes by so fast it's almost impossible to even notice. YouTube isn't perfect, but this is ridiculous," said Dan Gainor, VP of Business and Culture at the Media Research Center. "Just as Muslims were outraged by portrayals in 'South Park,' they are outraged by this. Meanwhile, Christians are criticized, abused, parodied, persecuted and worse on a daily basis in the news and entertainment media."
Sociologist Dr. Hilary Levey Friedman agreed "the pendant worn is only briefly" and told us that "pulling this video in response to the petition would be a problematic standard of censorship by YouTube."
Reps for Perry and YouTube, which is owned by Google, did not return a request for comment. But a source close to the company told us the hosting platform does not create or edit videos, and only intervene if it's a violation of rules and regulations, in which case the video would be removed.
This isn't the first time the "I Kissed a Girl" crooner has found herself in a video brouhaha. Perry got a lot of pushback after her Geisha-themed performance of "Unconditionally" at the American Music Awards last November. The daughter of two Christian pastors, Perry has said in interviews that she does not identify with a particular religion.
"But I still feel like I have a deep connection with God," she told Marie Claire magazine last year.
Follow @holliesmckay on Twitter.