Kate Spade's husband posts tribute on social media 2 months after her death
Kate Spade's husband is paying tribute to the late fashion designer nearly two months after her death with a touching tribute on Instagram.
Andy Spade posted an image of a Christmas tree on Tuesday to his 53,000 followers along with a heartfelt caption in which he remembered his late wife, and the mother of his 13-year-old daughter Frances Beatrix.
"She was born Christmas Eve. 1962. She loved he Midwest, the desert, and the city. I was lucky enough to have dear friends let my daughter and stay at their home through a difficult time," the caption read.
It continued: "This tree was standing alone beside the house so we ordered those multi colored, old fashioned lights from Amazon or Target and another dear personal friend gave me a really long extension cord and Bea and I cut a star out of the cardboard box the lights came on and wrapped it in Reynolds wrap (TM) like we do every Christmas."
As previously reported, Kate Spade died of an apparent suicide in her New York City apartment in June.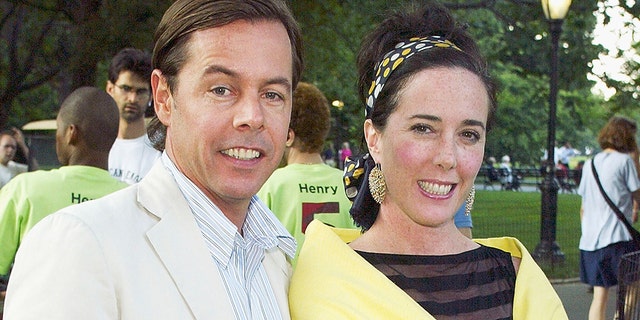 The Associated Press reported Spade was found with a red scarf around her neck attached to a doorknob. The couple's 13-year-old daughter was at school at the time and officials said a note was found at the scene telling her it was not her fault.
This isn't the first time that Andy has released a public statement about Kate's death.
"Kate suffered from depression and anxiety for many years. She was actively seeking help and working closely with her doctors to treat her disease, one that takes far too many lives. We were in touch with her the night before and she sounded happy," Andy wrote in a statement at the time. "There was no indication and no warning that she would do this. It was a complete shock. And it clearly wasn't her. There were personal demons she was battling."
He also confirmed that they were not legally separated, but were living in separate apartments near each other in New York City.
"We were not legally separated, and never even discussed divorce. We were best friends trying to work through our problems in the best way we knew how. We were together for 35 years," he said. "We loved each other very much and simply needed a break."