Jonas Brothers to reunite, release documentary and new music: report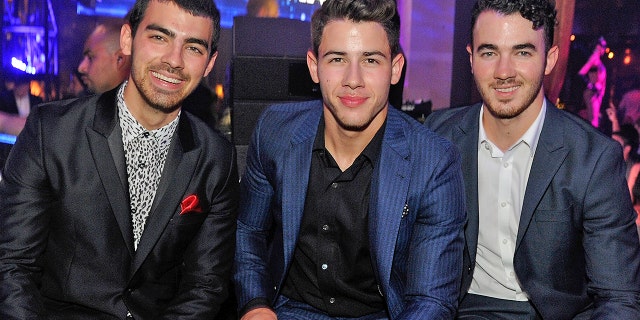 The Jonas Brothers are going to have to dig out their purity rings and get them resized.
NICK JONAS 'REGRETS' BEING IN THE JONAS BROTHERS
I can reveal teen heartthrobs Nick, Joe and Kevin are getting their family band back together six years after a bitter breakup.
The siblings are planning to release new music alongside a documentary about their reunion, having secretly flown into London last week to plan their comeback.
CLICK HERE TO GET THE FOX NEWS APP
A music insider said: "This is going to be one of the biggest music reunions in years.
"It's no secret that things weren't great by the end of the Jonas Brothers, but blood is thicker than water and they've healed their rift in the years since the split.
"After enjoying solo music success and taking time to work on passion projects, they feel that now is the right time to get back together."
JONAS BROTHERS EYE KARDASHIANS' REALITY TV THRONE
The Jonas Brothers formed in 2005 and became global singing sensations off the back of Disney TV movie "Camp Rock," which also made a household name of Joe's ex Demi Lovato.
The trio, who sold 20 million records worldwide, released their last all-original album a decade ago.
JONAS BROTHERS CONFIRM THEIR BREAKUP: 'IT WAS UNANIMOUS'
They first attempted a comeback in 2013 but canceled a tour two days before it was meant to start due to "a deep rift" and "a big disagreement over their music direction."
They announced their split three weeks later and axed a planned album, bidding an underwhelming farewell by releasing a collection of live tracks and new songs.
NICK JONAS AND PRIYANKA CHOPRA RELEASE PHOTOS FROM WEDDING
After the split, Nick — who recently ­married Meghan Markle's actress pal Priyanka Chopra — released two solo albums and launched an acting career, starring in the 2017 blockbuster "Jumanji: ­Welcome to the Jungle."
Joe, who is engaged to "Game of Thrones" star Sophie Turner, formed the band DNCE, while Kevin became an entrepreneur and was a contestant on Donald Trump's final series of "Celebrity Apprentice."
NICK JONAS SAYS 'GAME OF THRONES' STAR SOPHIE TURNER IS AMAZING ADDITION TO FAMILY
The Jonas Brothers were famed for ­wearing purity rings symbolizing their abstinence from sex.
But after ditching their bling, Kevin    admitted: "To be honest about it, sex was not worth the wait.
"After we did it, I was kind of like, that's it?"
Hopefully fans won't feel the same way about the reunion.
This story originally appeared on The Sun.