Jon Stewart signs off: 10 memorable Latino moments on 'The Daily Show'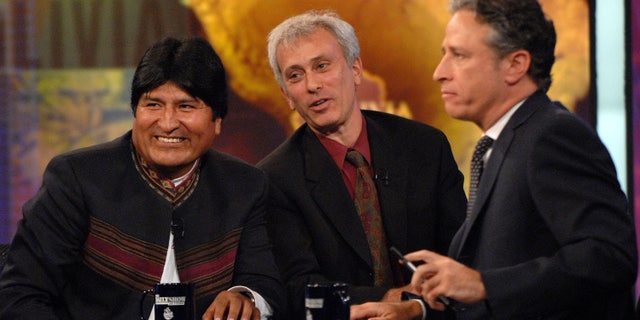 After more than 16 years and nearly 2,600 telecasts, Jon Stewart bids farewell to "The Daily Show."
Stewart, will step aside, making way for Trevor Noah, a 31-year-old stand-up comic from South Africa, to manage this nightly reality check as the nation dives deep into the 2016 presidential election cycle.
As fans prepare to say good-bye, we thought a list of a handful of Stewart's memorable Latino moments was in order.
1. Dora The Explorer's "Pendejo"
In March 2009, Stewart took on CNBC, unreeling video of the financial news network's personalities making wrong forecasts for market behavior. "Mad Money" host Jim Cramer took offense to it and booked appearances on CNBC sister networks NBC and MSNBC to rail against Stewart, who responded accordingly with the help of Dora the Explorer.
"Why is everyone being such a pendejo?" Dora asked Stewart when he joins her in the frame, then she tells the audience, "Pendejo: it means 'jackass' in Spanish."
2. Barack Obama and Mitt Romney: Los Panderos
At the height of the 2012 presidential elections, President Barack Obama and GOP nominee Mitt Romney traveled to the National Association of Latino Elected and Appointed Officials (NALEO) conference to court the Latino vote. In the segment, Stewart took apart Obama and Romney's speech to see "who won."
3. Marco Rubio and Ted Cruz are the "WASPs of the Latino world"
Stewart brought in his Senior Hispanic Correspondent Al Madrigal on show to talk about the Latino candidates vying for president, Senators Ted Cruz and Marco Rubio. In the segment, Madrigal was quick to dismiss them as "Latino" candidates, saying they are the "WASPs of the Latino world."
4. "El Chapo" Guzman's arrest
Stewart talked about the capture of Joaquin "El Chapo" Guzman, the leader of the Sineloa drug cartel, in February 2014 after a decades-long fight against drugs. (He recently escaped.)
"El Chapo means a short, stout person or corn porridge – kind of a weird name for a tough guy," he said.
5. Bolivian President Evo Morales visits "The Daily Show"
Soon after being elected president of Bolivia, Evo Morales, visited Stewart in 2007 to talk about everything from agrarian reform to global warming.
6. Democracy on the crawl
Stewart took a look at how democracy has "spread" into Venezuela and Mexico, touching on the 2006 reelection of former Venezuelan leader Hugo Chavez and the election of Felipe Calderon. "Even Venezuela's flag is sad," he quipped.
7. Guardians of the Amnesty
"I am the president of the United States, I am not the emperor of the United States," once said President Barack Obama regarding what he would do to tackle the country's immigration system. Fast forward to 2014 when the president announced he would be taking executive action on the same issue. Stewart had some fun with it.
8. Slandero Gigante aka Donald Trump
Just as Stewart was beginning the countdown to his finals shows, Donald Trump announced his presidential campaign. "(He) opened up his crazy hole and made a promise to me that I would never be without material again," Stewart said.
9. Law and Border
The controversial Arizona immigration law hit the headlines in April 2010 for its discriminatory clauses that allows police to check the immigration status of people they encounter. Stewart took apart the law for allowing police to "check people who are reasonably suspicious."
10. Latinos are terrifying – according to these Texans
In October 2014, Stewart and his senior Hispanic correspondent Al Madrigal went to Texas to talk to people about immigration and found some old-fashioned racism. "Machete" actor Danny Trejo even guest starred to show that Mexican-Americans are just not blood thirsty killers (as shown in his movie).
11. Fox News Latino makes an appearance
Stewart tackled the liberal bias by Spanish-language news networks when talking about Obamacare. In part of the segment, Al Madrigal said Latinos should get their news from FNL.
If you want to catch another list check this one out here from Latinousa.org.
Like us on Facebook
Follow us on Twitter & Instagram