Joel McHale's canceled Netflix series highlights streaming giant's talk-show problem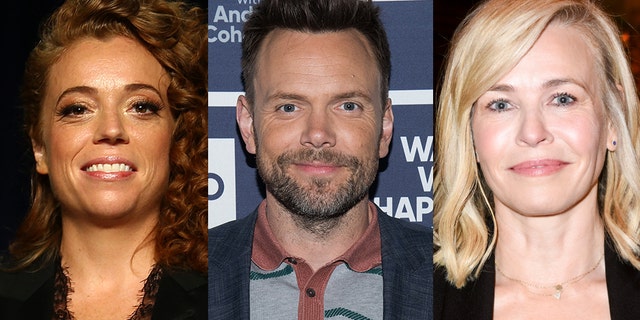 Left-wing comedians Michelle Wolf and Chelsea Handler first crashed and burned as talk-show hosts on Netflix. But then former E! star Joel McHale, who is more likely to poke fun at Kim Kardashian than President Trump, also got the hook. So are Netflix's talk shows flaming out because of the hosts' political leanings, or is it the talk-show genre itself that's having a hard time attracting a streaming audience?
The weekly "The Joel McHale Show with Joel McHale" didn't even make it to 20 episodes before it was canceled. Wolf's "The Break" was given the boot after only a few months, while Handler walked away from lackluster "Chelsea" after two widely panned seasons to focus on political activism.
Mediaite columnist Joseph Wulfsohn doesn't think politics played a part in the shows ending prematurely. He thinks unfunny comedians did.
"Especially since most late night talk shows have been thriving in the Trump era. Michelle Wolf and Chelsea Handler simply weren't funny," Wulfsohn said.
But comedian Tim Young, who was a fan of McHale's politics-free program, says the streaming giant isn't doing itself any favors with polarizing politics.
"Netflix seems to be forgetting that half of the country -- or more -- lean conservative. So when you have extremely liberal politics involved, you already lose half of your potential viewership," Young said. "In Wolf's case, she kept joking about abortion in ways that would offend both pro-choice and pro-life people. No one finds abortion funny."
Netflix does have some talk-driven hits on its hands. David Letterman's "My Next Guest Needs No Introduction" and Jerry Seinfeld's "Comedians in Cars Getting Coffee," which operate outside the news cycle, have proven that unscripted content can thrive on the platform – but neither comedy legend's A-lister reliant series can be considered a typical late-night style talk show.
Handler's show focused largely on politics and struggled to resonate with viewers from the jump. It was switched from a daily to weekly program before the idea was scrapped altogether. Wolf grabbed headlines in late April due to the jokes she made during the White House Correspondents' Dinner in Washington, D.C. at the expense of Trump and members of his administration – including personal jabs at Press Secretary Sarah Sanders.
Wolf's short-lived Netflix series launched the following month and made headlines with politically charged attempts at humor such as comparing ICE to ISIS, distasteful abortion jokes and comments about Melania Trump being the victim of domestic abuse.
Conservative strategist Chris Barron told Fox News that "politics aside, Wolf and Handler failed because they weren't funny" or original.
"They made the same jokes every other social justice warrior masquerading as a comedian makes these days," Barron said.
NewsBusters managing editor Curtis Houck identifies liberal bias in the media for a living but isn't sure if politics contributed to the demise of the far-left talk shows.
"Netflix shares next to nothing with the public about its ratings, so it's difficult to make a definitive correlation. However, it's undeniable that both pushed the envelope and drew negative headlines with Wolf's celebration of abortion really crossing a line," Houck told Fox News.
Another liberal comedian – "Daily Show" correspondent Hasan Minhaj – will reportedly host a new Netflix talk show later this year. It remains to be seen if a liberal talk show host can thrive on the streaming service, but critics seem to think all that matters is whether or not he will make people laugh.
Netflix did not respond to a request for comment.