Jodi Arias Drama To Be Turned Into Lifetime's 'Dirty Little Secret'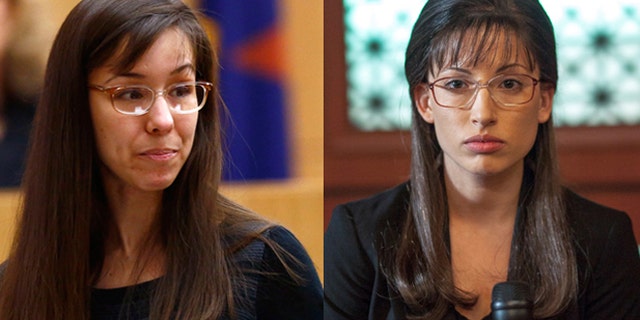 No surprise here.
Lifetime television network is rushing to release a movie version of the saga involving Jodi Arias and the brutal murder of her boyfriend Travis Alexander.
Entitled "Jodi Arias: Dirty Little Secret," the movie is scheduled to premiere on June 22.
According to Deadline TV, the dramatized two-hour film will be followed by a one-hour documentary entitled "Jodi Arias: Behind The Deadline."
While the film has been in the works for months, the script was re-written after Arias received her conviction.
On May 8th, Arias was found guilty of murder in the first degree. However, the jury has yet to reach a decision on the sentencing, with the third phase of trial set to resume in July.
One of Arizona's local television stations, 12 News, spoke with a woman who auditioned for a small role as a reporter in the film.
"It was extremely bizarre to walk into this 'Jodi Arias' headquarters' where her name [is] on the walls like she is a movie star," Kinsey Shoffield said.
"The (script) lines are just like 'Arias defense is falling apart,' 'Arias claims that Travis was the sexual deviant and yet she sent him text messages that look like this one.'"
According to Shoffield, the film will cover everything from the beginning of Arias' love affair with Alexander to the night she stabbed him over 27 times. The film will culminate with the drama-filled trial.
The lucky actress who is portraying Arias is "Lost" alum Tania Raymonde, while "The Mob Doctor," actor Jesse Lee Soffer, will play Alexander.
Prosecutor Juan Martinez will be played by "Ugly Betty" actor Tony Plana and David Zayas, of "Dexter," has signed on to portray detective Esteban Flores.
The film's executive producers, Joshua D. Maurer, Alixandre Witlin and Judith Verno, have also worked on the network's prior crime dramas including "Prosecuting Casey Anthony," 2011's "Amanda Knox: Murder On Trial In Italy," "Drew Peterson: Untouchable" and "The Craigslist Killer."
Follow us on twitter.com/foxnewslatino
Like us at facebook.com/foxnewslatino