Jessica Chastain on Sony hacking: 'It's not OK'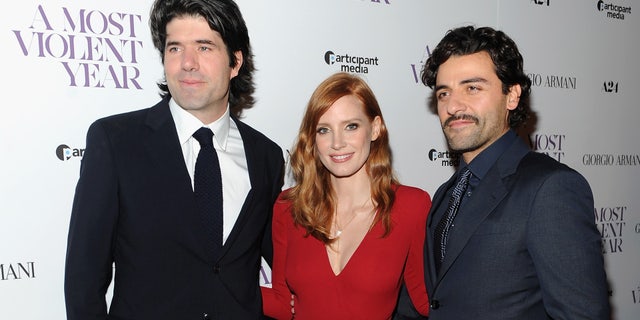 At Sunday night's New York premiere of the drama "A Most Violent Year," Jessica Chastain addressed the Sony hacking last week that compromised the personal information of 47,000 people and led to the leak of five films, including "Fury" and "Annie."
"I think piracy is an issue that has been in the industry for a long time," Chastain said. "I think it's not OK to steal anyone's work. And the Internet is such a new thing for us. Of course, we are all coming together to find stricter ways of policing that."
"A Most Violent Year," which will be released later this year by A24, shot to top of the awards season chatter recently after it nabbed three high profile prizes from the National Board of Review: best picture, best actor (Oscar Isaac) and best supporting actress (Chastain).
Chastain said she was approached by director J.C. Chandor about her role — as the wife of a potentially shady oil merchant — at the Cannes premiere of his previous film "All is Lost." "He said, 'I've got this film, would you be interested?'" Chastain recalled. "I knew for sure I wanted to work with him. He's a person that's very collaborative."
Added Isaac: "He's got such an expansive mind. He won't shut up — he's wall-to-wall talking. He's so excited. But when it comes to shooting, he's laser-focused. It's like all that energy up in the air really solidifies."
Isaac is preparing to play the villain Apocalypse in the next "X-Men," a role that he landed without an audition. "I'm a big comic-book fan," Isaac said. " I always loved comics when I was young. I would cast them with actors if they would ever make movies about them. And so the fact that I now get to be in them is wild."
The after-party was at the Armani Ristorante, with guests Ang Lee, Zachary Quinto, Oren Moverman, David Chase, Participant Media's Jim Berk and MSNBC host Lawrence O'Donnell.