Jerry Seinfeld on Kathy Griffin's Trump pic: 'I don't understand the big deal'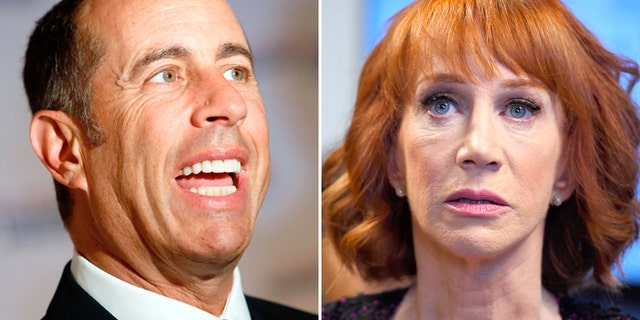 Jerry Seinfeld came to Kathy Griffin's defense after the comedian posed with a bloodied mask of President Trump.
"Yes, it was another bad joke. Every comedian tells bad jokes," Seinfeld told People in an interview published Tuesday.
"We all do it. That's how we find the good jokes," he added. "So someone told a bad joke — so what, I don't understand the big deal."
Griffin first apologized for the photo hours the photo broke May 30, saying she "feel[s] horrible" people took the photo as a threat of violence.
During a press conference held Friday, Griffin addressed the backlash that followed telling reporters her career is over after she says the Trump family systematically "mobilized their armies" against her.
"I made a horrible, horrible call," she said. "Trust me, if I could redo the whole thing I'd have a blow up doll and no ketchup."