Jerry O'Connell gets candid on raising twin daughters and dogs with wife Rebecca Romijn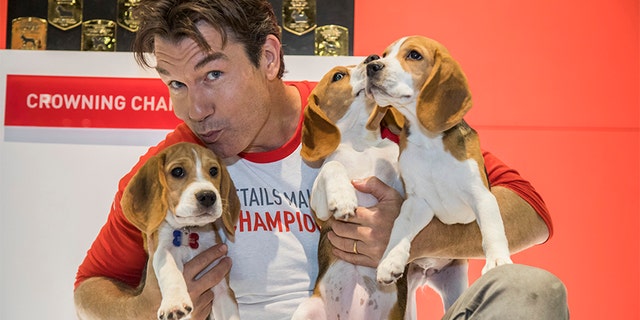 For Jerry O'Connell, New Year's Day is going to the dogs.
For the second year in a row, the 43-year-old actor will be hosting the AKC National Championship Presented by Royal Canin, also known as the largest dog show in North America. And as a pet owner (and lover), it was an easy choice for the "Stand By Me" star to make — even if it means his latest role comes with a lint roller.
Fox News spoke with O'Connell about how dogs have changed his life, the secret behind his lasting marriage to Rebecca Romijn and the one thing that's worrying him.
Fox News: As a dog owner, how has it changed your life?
Jerry O'Connell: It just makes a family. Our dogs are our family...It just brings everyone so much joy when I see my kids come home from school and they just instantly get on the floor and hug our dogs. And our dogs hug them back. We have a household that allows our dogs to sleep in the bed. And these are big dogs. I now have to sleep on the dog bed because they're in our bed. So I bring like a little pillow and a blanket to the dog bed and I sleep there.
Fox News: As a father to twin girls, what's your biggest worry right now?
O'Connell: Obviously the regular stuff, being the father of girls. I don't want them talking to boys. When I'm dead they can date everyone. But right now I don't want them dating anyone. And to get real for a moment, they play online games on these little tablets and I'm always worried. I always tell them, 'Make sure you don't talk to anybody on there.' That's a big thing for me. And we have four pretty big dogs so when the boys come over, they better bring my daughters home on time because these four dogs will be waiting for them.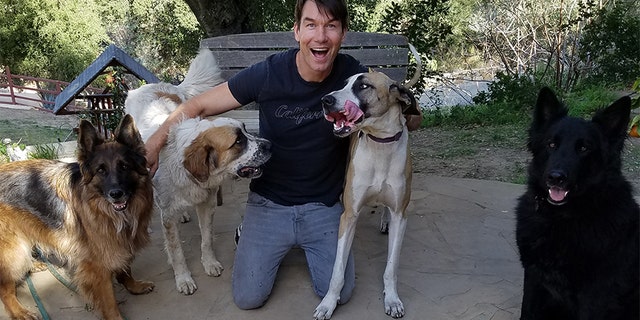 Fox News: You and your wife have been married for 10 years. What's your secret behind the lasting marriage?
O'Connell: Going on 11. I'm as shocked as you. And all of our Hollywood friends now just think we're weird. Like, 'Why are you guys still together? That's not how it works.' We're like ostracized because we've been apparently together for too long.
Fox News: So what's the secret?
O'Connell: Have kids. Have crazy kids. And then when you have kids, you're afraid of giving up because one of you is going to be stuck with them. So you have to stay together. No, but what is the secret? I don't know! Please don't ask me. That's what Dr. Phil is for. But I don't know, we have a really fun home. And it includes all of our dogs. And crazy dogs do keep our house fun. Even though I am sleeping on the dog bed.
Fox News: How does your wife feel about that?
O'Connell: My wife would way prefer for the dogs to sleep on our bed than me.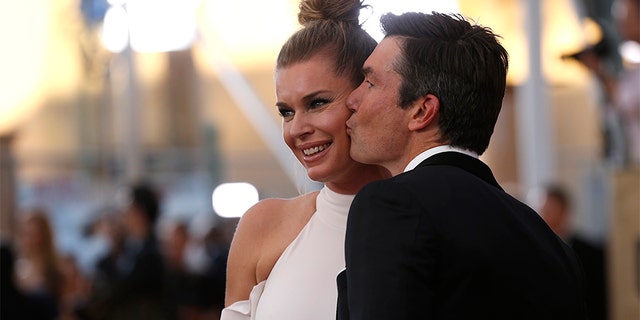 Fox News: How would you feel if your daughters pursue acting?
O'Connell: It's funny, they're eight and we have them in school drama. They were just in "Peter Pan," their school play. And one of them is really, pretty good. The other is sort of just along for the ride. She's having a good time. But kids need to find their own thing… I don't think it's anything I'll be able to decide. I think it's something they're going to choose.
Fox News: How do you balance having a high-profile career, all while being a hands-on parent?
O'Connell: My wife and I are pretty busy, but we try to make sure one of us is at home when the other one is working. Also, we have grandparents who are super helpful. And they also watch our dogs at home, our other children. I think the dogs are just as much work as the kids. But the grandparents love it.
Fox News: What can fans expect from the upcoming show?
O'Connell: You know, I was involved last year… it's just so fun to be around these beautiful animals. The show has 190 different breeds. I mean, I'm seeing breeds I didn't even know existed. And it just puts everybody in such a good mood. You just can't help, but laugh and smile the entire time. These dogs are gorgeous, their trainers and owners are so nice.
I'm on the sidelines and they're all giving me inside details into what they do to prepare their dogs for the big show. Their hair is more gorgeous and coiffed than mine. And you know, I took a lot of those tricks back home and I tried them on my own dogs, but sadly it didn't work out. I don't think my dogs will be participating anytime soon. But these dogs are way more behaved than most of my children!
The AKC National Championship Presented by Royal Canin airs New Year's Day on Animal Planet.