Jennifer Lawrence says nude photos hack was 'unbelievably violating'
Jennifer Lawrence is still recovering three years after a bunch of private nude photos of her were leaked online.
The actress opened up to The Hollywood Reporter on Monday about the moment she was hacked in 2014 and how she felt "unbelievably" violated knowing her private pictures were made public.
"When the hacking thing happened, it was so unbelievably violating that you can't even put it into words," Lawrence recalled. "I think that I'm still actually processing it."
She added, "When I first found out it was happening, my security reached out to me. It was happening minute-to-minute — it was almost like a ransom situation where they were releasing new ones every hour or so."
The 27-year-old said she felt like she "got gang-banged by the f—king planet" and struggled with knowing anyone could look at a photo of her naked by searching the Internet.
"I feel like I got gang-banged by the f—king planet. Like, there's not one person in the world that is not capable of seeing these intimate photos of me. You can just be at a barbecue and somebody can just pull them up on their phone. That was a really impossible thing to process," Lawrence said.
JENNIFER LAWRENCE: I WAS PLACED IN 'NUDE LINEUP,' TOLD TO LOSE WEIGHT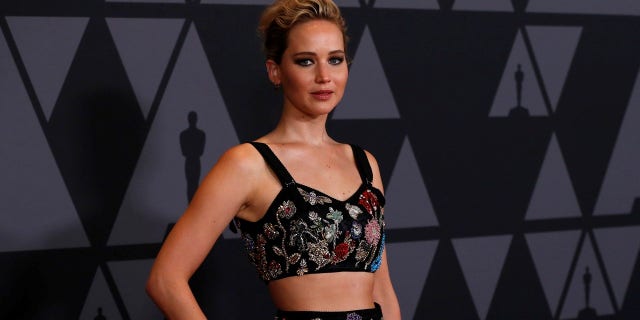 Lawrence and hundreds of other celebrities and people were hacked when Apple and Google email accounts were breached. A Pennsylvania man was sentenced to 18 months in prison for the hacking scandal in October 2016, the U.S. Justice Department said. Many people have urged Lawrence to sue Apple or those responsible, but the actress admitted it wouldn't give her "peace."
"None of that was going to bring my nude body back to me and [former boyfriend] Nic [Hoult], the person that they were intended for. It wasn't going to bring any of that back," she said. "I was just interested in healing."
Lawrence also talked about Harvey Weinstein, who was accused of sexual misconduct by multiple women. "Silver Linings Playbook," which Lawrence starred in, was distributed by Weinstein's company. The actress said she heard the producer "was a dog," but added that Weinstein was "almost paternal" to her.
"It was bizarre. I heard that he was a dog but he was always almost paternal to me. He was never inappropriate with me," the actress told the Hollywood Reporter.
"I thought we had a nice relationship where when he acted like an a--hole, I called him an a--hole. I actually think the word I used was 'a sadistic monster,' but it was just never of that nature so that was really shocking," she said.