Jennifer Beals on working with Kelsey Grammer: 'It was a dream come true'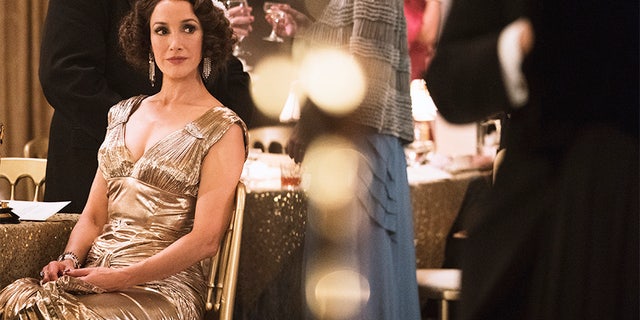 Many fans best remember Jennifer Beals from her breakout role as Alex Owens in 1983's "Flashdance," but these days the beloved actress is going back in time to explore a drama based on F. Scott Fitzgerald's final unfinished novel.
Beals is currently appearing on Amazon's "The Last Tycoon" where she plays Margo Taft, a fiercely gorgeous and in-demand Hollywood star who isn't afraid to pursue her desires. Fox News spoke with the 53-year-old about settling into the 1930s, exploring the dark side of Hollywood history and working alongside TV veteran Kelsey Grammer:
Fox News: What was it about the role of Margo that drew you in?
Jennifer Beals: I have to say, [this] was my favorite project. And I can certainly say it's been my favorite character that I remember ever playing. I think she's so complicated... And every aspect of her life is focused on this goal of furthering her career and entering into some version of freedom.
Fox News: How difficult was it to take on an unfinished story that was created by one of America's most celebrated writers?
Beals: Well, fortunately in many regards, this character is not in the book... So in that way, you don't have the legacy on your shoulders. And yet you can still play in the same playground. You're not constrained by what's been on the page for decades.
Fox News: How was it working alongside Kelsey Grammer and Lily Collins?
Beals: Unfortunately, I didn't really have any scenes with Lily, but certainly working with Kelsey was a dream come true. He is just so accomplished and so generous with his talent on the set. And very welcoming to a guest star.
Fox News: It's been said your character was based on a real-life actress named Merle Oberon. Were you aware of her story before you took on the role?
Beals: Well, to be honest, there's only some aspects of that story that is from [creator Billy Ray's] point of view. But really, [Margo] is somebody we both imagined. It's not Merle Oberon. It's not Joan Crawford. It's something completely different and yet with aspects of that story. You know frankly, I watched [Crawford's] 'The Women' more times than I can even remember. That was really one of my first touch points.
Fox News: How tempted were you to keep the costumes?
Beals: Oh, I knew there was no way I was getting those costumes. Those costumes will one day be in a museum somewhere undoubtedly. Janie Bryant is so extraordinary. That gold dress I wear? She designed that dress and had it made. It's incredible.
Fox News: How did those costumes play a role in helping you transform into this larger-than-life character?
Beals: Well I think I certainly had the template and the costumes were like the cherry on the cake.
Fox News: Many viewers watching 'The Last Tycoon' will be surprised to learn the Nazis reportedly invested in Hollywood. Why is this part of history not widely talked about today?
Beals: Why is any part of history not talked about today? Why don't we talk about history, period? There's so many things that aren't taught. I don't know if history is necessarily taught to the degree to which it should be in order to be helpful in changing behavior and changing policy.
Fox News: What's the most important lesson you believe audiences will learn about Hollywood based on Margo alone?
Beals: That we all have dreams that we aspire to. We all have dreams. And some people are willing to do almost anything to make those dreams come true.
Fox News: In addition to 'The Last Tycoon' you're also filming Season Two of 'Taken.' What can fans expect?
Beals: I just started, so there's not really much to share unfortunately. We have a new showrunner who's really dedicated to kind of getting back to the original version of the show where Bryan is much more of a lone wolf. But other than that, that's all I really know. I haven't really shot very much
Fox News: Looking back, what has been the biggest challenge you faced in becoming someone like 'Taken's' Christina Hart?
Beals: Carrying the darkness. Carrying all the really, truly, horrible things that she's done in order to protect a large group of people.
Fox News: We know you can't reveal too much, but what direction do you hope your character will take in the series?
Beals: You know what? I don't think I'm ready to share it yet because I'm still working on it. And I feel like if I share it right now, it will dilute it.
"The Last Tycoon" is currently available for streaming on Amazon.