Jennifer Aniston Tearfully Extends Olive Branch to Justin Theroux's Ex, Report Claims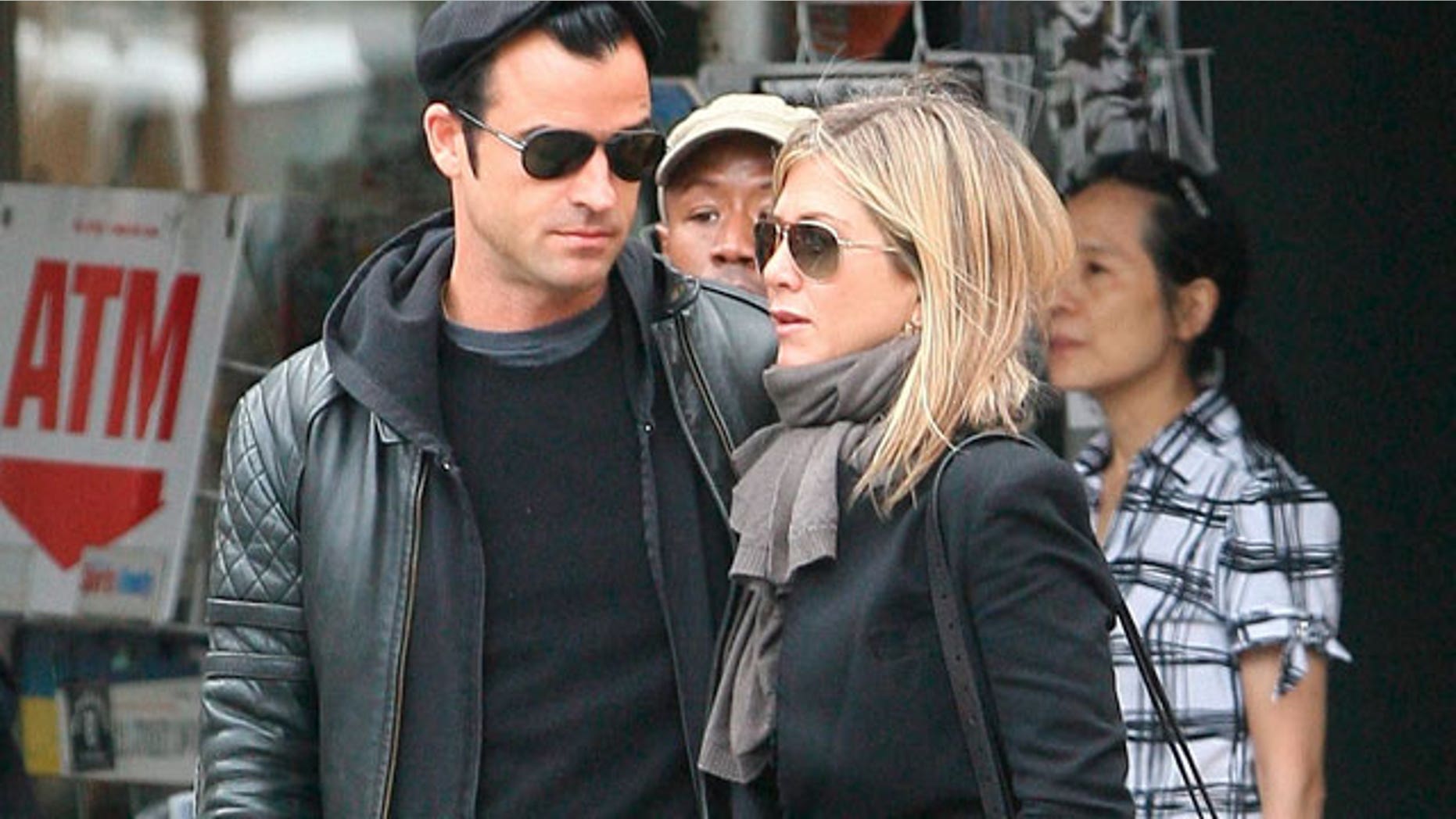 It is hard to imagine Jennifer Aniston having a sit-down with Angelina Jolie, who Aniston's then-husband Brad Pitt fell for while they filmed "Mr. and Mrs. Smith" together. But while Aniston may have played a similar role in the breakup of Justin Theroux and his girlfriend of 14 years, Aniston specifically requested a meeting to clear the air with her boyfriend's ex, a report said.
According to Grazia magazine, Aniston had a "tearful" meeting with Theroux's ex, stylist Heidi Bivens, at New York's Mercer Hotel last week. The two had a glass of wine as they spoke, sources said. Theroux was nowhere in sight.
"Jen has always been sympathetic to Heidi because she's heard from Justin just how devastated she is about their breakup," a source told the magazine. "Jen told Heidi that she understands what a painful time she has been going through and explained that she wanted her to know, hand on heart, that she would never steal another woman's man."
HOT SHOTS: Click here for more images of Jennifer Aniston 
Aniston and Theroux met while filming "Wanderlust," a comedy about a couple who moves to a rural commune when they find themselves unemployed, in Georgia last fall. The two became close on set, but Theroux was still with Bivens at the time. Aniston and Theroux were not seen together again until March, when they both attended a dinner at the Chateau Marmont with friends.
The couple was not romantically linked until late May, and when the two were photographed together for the first time in early June, Bivens' mother denied that her daughter and Theroux had split. But a week later, Bivens' rep confirmed to the New York Post that the couple had broken up.
According to Grazia, Aniston wanted to make it clear to Bivens that her relationship with Theroux started no earlier than May and that she is not a "homewrecker."
"Jen has always been adamant that their relationships did not cross over," a source told the magazine. "Heidi apparently got quite tearful during the meeting, as it was understandably a lot to take in."
Aniston's relationship with Theroux has progressed quickly since the summer. But she recently cleared up rumors that she would have big news soon.
"Rumor number one: I am not planning to get married any time soon. I've been married once, and I don't know if I'll get married again. But I can tell you that as of this very moment, I have no plan to get married. Got that?" she said. "And rumor number two: no, we're not pregnant."