'It: Chapter 2' has James McAvoy and Bill Hader in final talks for adult Losers Club members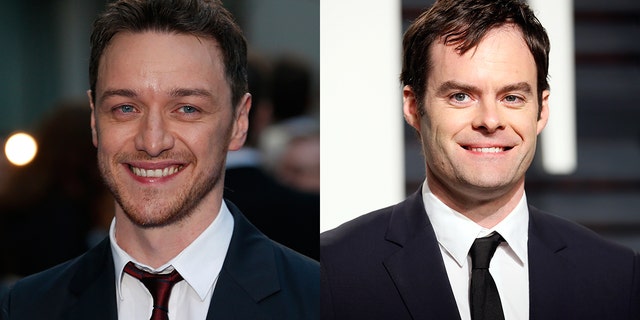 NEWYou can now listen to Fox News articles!
It looks like the sequel to 2017's smash horror hit "It" has found two more cast members to round out the adult versions of the characters. James McAvoy and Bill Hader are reportedly in talks to star as key members of the Losers Club when Pennywise returns to inflict new torments on their adult selves.
According to The Hollywood Reporter, McAvoy is set to play the adult version of Bill Denbrough in New Line's follow up, played by Jaeden Lieberher in the first film. Hader, on the other hand, is reportedly in talks to play the wise cracking Richie Tozier, played by Finn Wolfhard in the 2017 adaptation of Stephen King's lengthy horror novel.
For those unfamiliar, the book is split into two parts. The first movie tackled the first half of the Losers Club's encounter with Pennywise, in which they defeat him as children. However, the monster returns to the town of Derry every 27 years to feed and previously vowed revenge on the intrepid group of youngsters that stopped him in 1988.
While the child actors are reportedly set to reprise their roles in the capacity of flashbacks, the main story will focus on their adult selves. As previously reported, Jessica Chastain is already on board to play the group's only female member, Beverly. In addition, Bill Skarsgard will reprise his haunting role as the demented child-killing Pennywise the Dancing Clown.
Andy Muschietti is back as the director with Gary Dauberman penning the script.
At this time, the actors are reportedly in final discussions for the respective roles. As a result, they're not officially members of the cast. "It: Chapter 2" is expected to begin filming later this summer with an eye toward a Sept. 6, 2019 release date.