Iñarritu, 'The Revenant' showered with trophies at BAFTA awards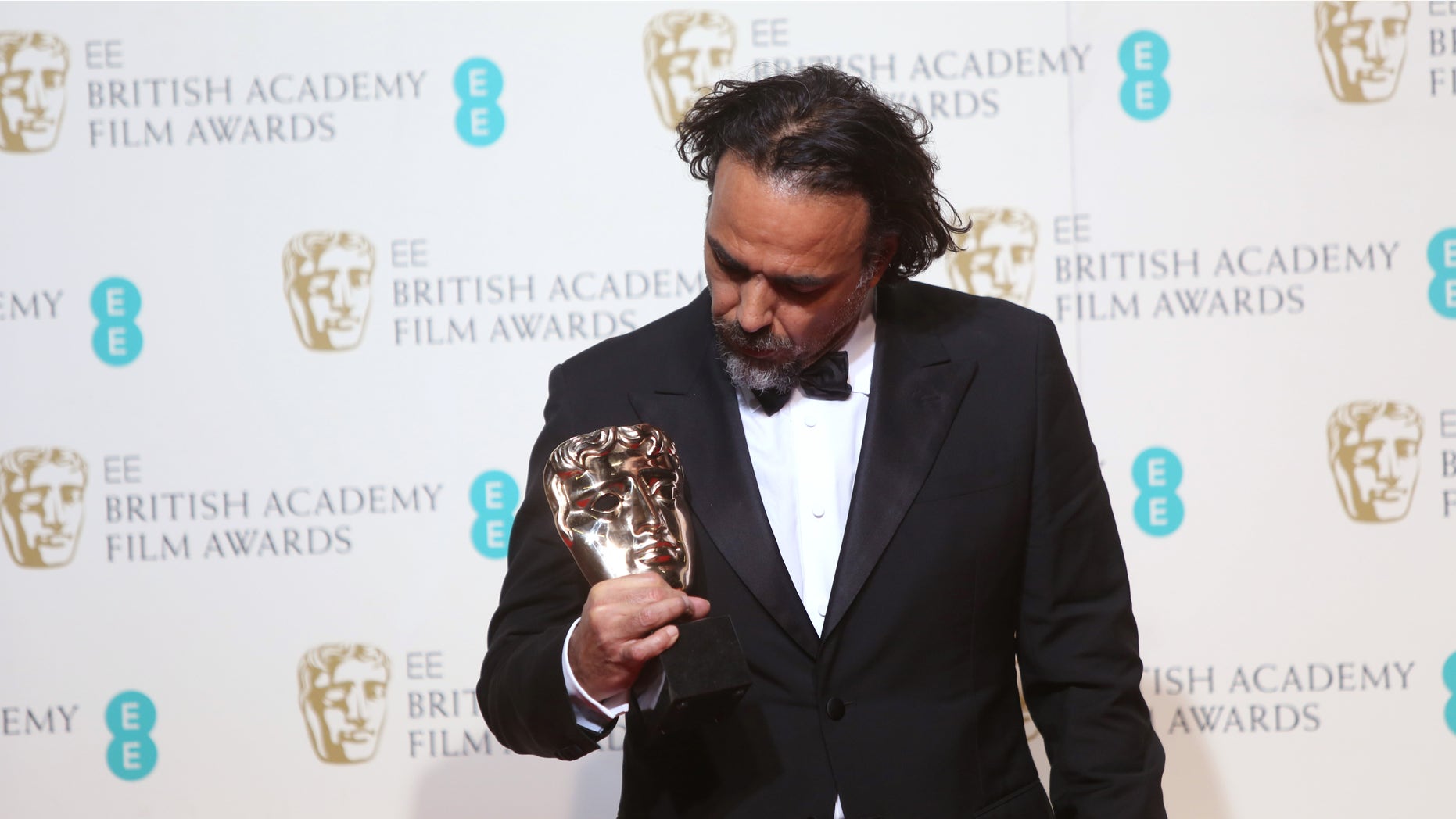 Alejandro G. Iñarritu and his film "The Revenant" were showered with love at the British Academy Films Awards on Sunday.
The Mexican director was named best director for what he called a "human and tender story" while the film's cinematographer and Iñarritu's longtime collaborator Emmanuel Lubezki took home the award for best cinematographer for the third year in a row.
"The Revenant" also won best picture and sound sound, while Leonardo DiCaprio cemented his Oscar-favorite status by taking the best actor trophy for playing a bear-battling fur trapper in a brutally wild American West.
DiCaprio, who has been nominated three times before at the British awards without winning, said in his acceptance speech that he was "absolutely humbled" to beat "The Martian" star Matt Damon, "Trumbo'''s Bryan Cranston, Michael Fassbender for "Steve Jobs," and Eddie Redmayne for "The Danish Girl."
He cited the influence on his work of British actors including Tom Courtney, Peter O'Toole, Daniel Day Lewis and his "Revenant" co-star Tom Hardy, and sent thanks and greetings to his mother, whose birthday fell on Sunday.
The British awards, known as BAFTAs, are considered a portent of success at Hollywood's Feb. 28 Academy Awards. "The Revenant" has earned DiCaprio his sixth Oscar nomination — and, many believe, his best shot at finally winning.
DiCaprio said it was out of his hands, but expressed pride in what he called "not just a film, but an epic journey we all went on."
"We put our heart and soul into this movie ... It's up to the world now and voters to decide," he said at a post-ceremony news conference.
The best actress trophy went to Brie Larson as a mother trying to shield her son from a terrible reality in "Room." She won over Alicia Vikander for "The Danish Girl," Cate Blanchett for "Carol," Maggie Smith for "The Lady in the Van" and Saoirse Ronan for "Brooklyn."
Supporting performer prizes went to Mark Rylance, a soft-spoken Soviet agent in "Bridge of Spies," and Kate Winslet, an Apple executive in "Steve Jobs."
Winslet dedicated the prize to "all those young women who doubt themselves," recalling that she once had been told to go for "the fat-girl parts."
"Look at me now!" Winslet said.
"The Revenant" beat several hotly tipped awards contenders, including Steven Spielberg's Cold War thriller "Bridge of Spies" and Todd Haynes' lesbian romance "Carol." Each had nine BAFTA nominations, but "Bridge of Spies" won only for Rylance's performance, while "Carol" was shut out.
Irish emigrant saga "Brooklyn" was named best British film, a distinct category, while the documentary prize went to "Amy," a powerful portrait of the rise and fall of singer Amy Winehouse.
George Miller's dystopian thrill ride "Mad Max: Fury Road" took four prizes: editing, production design, costume design, and hair and makeup.
Two leading Oscar contenders also won awards: "Spotlight," the drama about newspaper reporters investigating sex abuses in the Catholic Church, for original screenplay, and financial-crisis dramedy "The Big Short" for adapted screenplay.
"Star Wars" action hero John Boyega won the Rising Star award — decided by public vote — and dedicated it to "all the young dreamers who are hard-working, who are determined and who quite frankly are amazing." ''Star Wars: The Force Awakens" won the BAFTA for visual effects.
The movie awards season has been dominated by debate about why the film industry remains dominated by white men. All the acting nominees for the Oscars both this year and last have been white.
The BAFTAs are slightly more diverse, with two black actors nominated — Boyega and Idris Elba, a supporting-actor contender for "Beasts of No Nation." Pioneering black American actor Sidney Poitier — the first black best-actor Oscar winner, in 1963 — received a lifetime achievement award, the BAFTA fellowship.
A group called Creatives of Colour Network organized a protest beside the red carpet against a lack of racial diversity in show business. Demonstrators rallied under the hashtag #baftablackout, and distributed leaflets declaring the awards "male, pale and stale."
The head of the British film academy said she supported the protesters' aims.
"Our industry isn't diverse enough, so the pool of people to draw award winners from isn't diverse enough," chief executive Amanda Berry told the Daily Telegraph newspaper.
Iñarritu said in post-ceremony news conference that the diversity controversy plaguing the Oscars is not limited to just the Hollywood ceremony.
"I would say that in my personal point of view that the problem of the diversity in the Academy I think goes deeper to the diversity in the industry which goes deeper to the diversity and the cultural perception of the world," he said, according to Independent.ie. "So it's a bigger question, it's a bigger challenge, which is a cultural thing. You know, so what I'm saying is that the more we keep talking about race ... and we don't understand that we all are mixed race ... there is no purity in this."
He added: "So I think that I don't know the statistics, but it's true that I don't know how many Mexican Americans or Mexicans or Latin Americans are portrayed in TV shows, in films, in advertising. There's a lot to do, there's a lot to do."