'Huge' Star Nikki Blonsky Ignores Hollywood Pressure to Lose Weight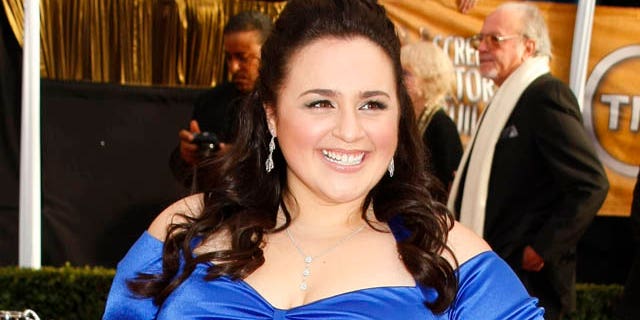 "Huge" star Nikki Blonsky may play a girl forced into fat camp in her hit ABC Family show, but the actress says she has always been loved "just the way" she is.
The 21-year-old was an unknown actress until she landed the lead in the 2007 film version of "Hairspray." After her bubbly, singing and dancing portrayal of Tracy Turnblad, critics and fans were hooked on this 4-foot-10 firecracker.
The young star is refreshingly comfortable in her own skin and is happy that she didn't succumb to pressure to lose weight in order to get into the biz – after all, so far her size has only helped her.
"If I would have listened to all those people who told me to lose weight, I wouldn't have gotten Tracy [in "Hairspray"] and I wouldn't have gotten Will [in "Huge"]," she tells Fox411 at Planet Hollywood in Times Square. "I'd probably still be in an ice cream store, which isn't a bad place, but it's just not where I'm meant to be."
Her days of working at Coldstone Creamery are now long gone. "I definitely feel like I am where I am supposed to be right now," she says.
To keep her killer self-esteem, Blonsky recommends "finding things that make you feel great about yourself and then focus on that rather than on the things that make you upset about yourself."
"Pick out the great things that you love about yourself," she tells Fox411. "Whether it be your personality or jokes, whatever it is and focus on that rather than, 'oh my hips are too big' or 'I have fat on my thighs.'" Those, according to Blonsky are, "ridiculous things" to dwell on.
"Beauty fades as we get older," she explains. "We will be remembered for the important things like our personalities and the work that we've done and how we've impacted other people's lives. Not what we look like."
In that sense, Blonsky is eerily similar to her character Willamina, whose revolutionary insights about weight and pride are inspirational to her fellow campers.
"I relate a lot to this character," says the Long Island native. "The way she carries herself, the way she acts and the fact that she doesn't care what people think about her because her opinion of herself is really the most important."
That positive attitude certainly helps Blonsky land gigs. Her next film, "Waiting for Forever," which co-stars Rachel Bilson and Blythe Danner, is due out later this year.
How does she manage to beat out other actresses half her size for parts?
"I just realize that I'm here for a reason. I'm here not to look like all the other girls. There's something in me that separates me and makes me different and I don't think it's my weight," she says. "Obviously that's the physical reason but I think when it comes down to it, I always believed talent would prevail."
The starlet, who says she's currently single, exudes confidence that most people would be jealous of. But despite conquering Hollywood hurdles, she still faces a few personal ones, as people have told her that she needs to lose weight to find her ideal guy.
"I know he's out there," she says of finding "the one." And the "Hairspray" star doesn't plan on changing herself to find him. "Julia Roberts said an amazing quote: 'Men don't care what you look like naked,'" she says. "And I would imagine that's true… Every man likes a different woman, just like every woman likes a different man."