Heather Locklear's friends and family 'desperately' tried to help actress before hospitalization: report
Heather Locklear's friends and family "desperately" tried to help the "Melrose Place" actress before she was hospitalized Sunday, when she reportedly threatened to kill herself, a report said.
A source told People that Locklear, 56, wasn't getting the help she needed to address "underlying mental health issues."
"[Heather] is clearly not getting the proper medical and mental health help she needs," the source told People.
The source added, "She isolates herself, which only feeds into the other issues. Of course, you can't force someone to get help — they have to want to — but it's hard for someone who is sick to make smart choices and keep at it. She has family and friends who are desperately trying to help."
HEATHER LOCKLEAR HOSPITALIZED AFTER THREATENING TO KILL HERSELF: REPORT
The Ventura County Fire Department was called to Locklear's home on Father's Day after a family member called 911 expressing concern for the actress' safety, TMZ reported. She was hospitalized for a psychiatric evaluation.
According to dispatch audio obtained by the outlet, Locklear was looking for a gun but "does not have access to any weapons."
CLICK HERE FOR THE 911 DISPATCH CALL
The source told People Locklear's parents and close friends have tried to help the actress for some time.
"She really needs a proper evaluation, different medication, and clearly more help than she has been getting to truly determine what her mental health issues are," the source said, adding that it has been "heartbreaking" for friends and family to see Locklear like this.
Locklear is having a difficult year. In February, she was arrested on charges of domestic violence and assault on three police officers.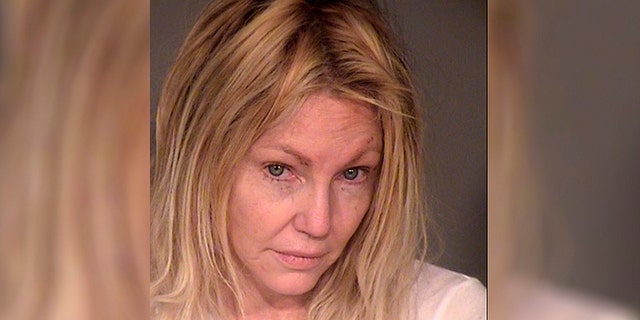 She was accused of pushing and shouting at deputies who were answering a call that she had been violent with her boyfriend, Chris Heisser, at the home. She was not charged with domestic violence despite reports from Us Weekly that Heisser had visible injuries. Her lawyer, however, entered the plea of not guilty to four misdemeanor counts of battery on an officer in April.
Locklear also struggled with substance abuse in the past. She reportedly checked herself into a treatment facility in March to help with her addiction battle.
Fox News' Leora Arnowitz and Sasha Savitsky contributed to this report.