Heather Locklear is back together with boyfriend after domestic violence charge, report says
Heather Locklear has reportedly returned home from rehab and is back together with her boyfriend Chris Heisser after the former "Melrose Place" star was arrested on a domestic violence charge in February involving Heisser.
"They are like oil and water, fighting nonstop," a source close to Locklear told ETonline.com.
The source continued, "Her family wants to see her focus on her health and sobriety and once that's in place, she can then start fresh with a new man. Right now, Heather is sober and she is in therapy. She is taking it one day at a time."
Locklear was arrested on February 25 and charged with domestic violence, which is a felony, and three counts of battery against an officer.
Locklear, 56, told deputies she would "shoot them if they ever came to her house again." However, police did not find the gun registered in Locklear's name at her residence.
Sheriff's Capt. Garo Kuredjian told Fox News at the time of the actress' arrest that the alleged victim of the domestic violence count was Locklear's boyfriend.
Heisser, 56, was arrested a day after Locklear — California Highway Patrol pulled him over for speeding and he blew a .19 and a .20 when given a field sobriety test, according to TMZ.
In 2011, Heisser was convicted of theft and fraud and served two years in prison, The New York Post reported.
The former "Melrose Place" star has struggled with substance abuse in the past and most recently entered rehab last year.
She was arrested in 2008 on suspicion of driving under the influence but the charges were later dismissed. She was sentenced to three years of informal probation and ordered to pay a $700 fine and take a driver safety class.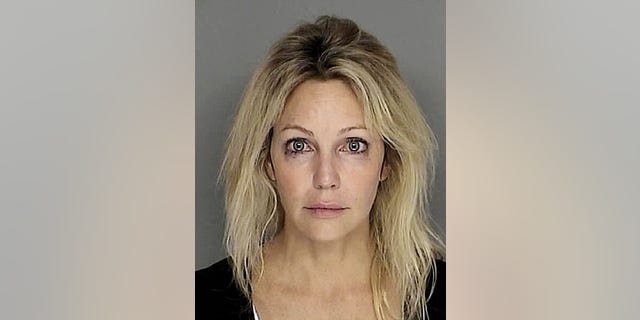 In the same year, authorities were called to Locklear's home following a 911 call from her doctor, who feared she overdosed on prescription medication but the warning turned out to be a false alarm.
According to TMZ, police went to the home of Locklear's then-boyfriend Jack Wagner in 2011 after a fight turned physical between the couple. A law enforcement source told TMZ at the time that Locklear "lost it on him and he retaliated."
Locklear's troubles continued in 2012 when her sister called 911 after fearing Locklear "was going to harm herself."
TMZ reported at the time that the actress had ingested a "dangerous mix" of a prescription drug, said to be Xanax, and alcohol.