Harvey Weinstein denies admitting he offered 'acting jobs in exchange for sex'
Harvey Weinstein made headlines on Friday when an article was published by the Spectator that claimed Weinstein had admitted to offering actresses acting jobs in exchange for sex, but the former movie mogul's lawyer is now denying Weinstein made any admissions.
The reporter, Taki, told TMZ: "I believe that I may have misrepresented Harvey Weinstein's conversation with me. It was my mistake."
Earlier Friday, the Spectator reported that the disgraced movie mogul, who pleaded not guilty to rape and criminal sex act charges in June, said his behavior is the norm in Hollywood.
"You were born rich and privileged and you were handsome. I was born poor, ugly, Jewish and had to fight all my life to get somewhere," Weinstein told Taki, according to the article in the Spectator. "You got lotsa girls, no girl looked at me until I made it big in Hollywood."
He then admitted, according to the article: "Yes, I did offer them acting jobs in exchange for sex, but so did and still does everyone. But I never, ever forced myself on a single woman."
Weinstein was accompanied by his lawyer Ben Brafman for the chat. Brafman told TMZ the interview with Taki did take place, but the recounting was not accurate.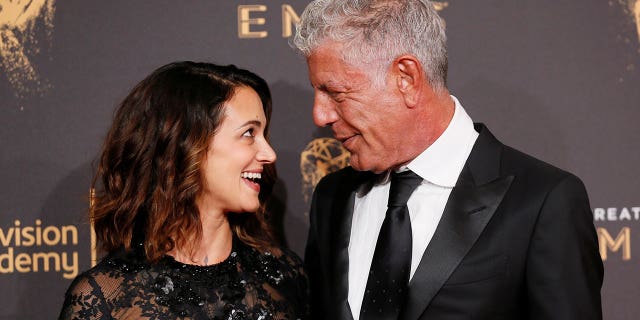 "Harvey and Taki [the reporter] did not discuss the case, nor would I allow him to. They talked about old Hollywood and the contrast to European culture and I think Taki sees Harvey in that older light. Mr. Weinstein never said anything about trading movie roles for sexual favors."
Taki also alleged that Weinstein said two of his most outspoken accusers, Rose McGowan and Asia Argento, were lying when McGowan claimed Argento had an open relationship with late boyfriend Anthony Bourdain.
"Her friend McGowan claimed that Asia and Anthony had an open relationship," Taki wrote of his conversation with Weinstein. "It was obviously not true, says Harvey, but dead men tell no tales, so the girls made it up."
The controversial interview comes after Weinstein entered a not-guilty plea at a New York courthouse on June 5, when he was arraigned on rape and criminal sex act charges.
The hearing in Manhattan followed a grand jury's indictment of the longtime movie mogul on charges involving two women.
One alleged victim, who has not been identified publicly, told investigators that Weinstein cornered her in a hotel room and raped her. The other accuser, former actress Lucia Evans, has gone public with her account of Weinstein allegedly forcing her to perform oral sex at his office in 2004.
Dozens more women have accused him of sexual misconduct ranging from harassment to assault.
The 66-year-old Weinstein has denied all allegations of nonconsensual sex. His lawyer has challenged the credibility of his alleged victims and says his client is confident he is going to clear his name.
Brafman called the rape allegation "absurd," saying that the accuser and Weinstein had a decade-long, consensual sexual relationship that continued after the alleged 2013 attack.
Weinstein is out on $1 million bail.
The Associated Press contributed to this report.