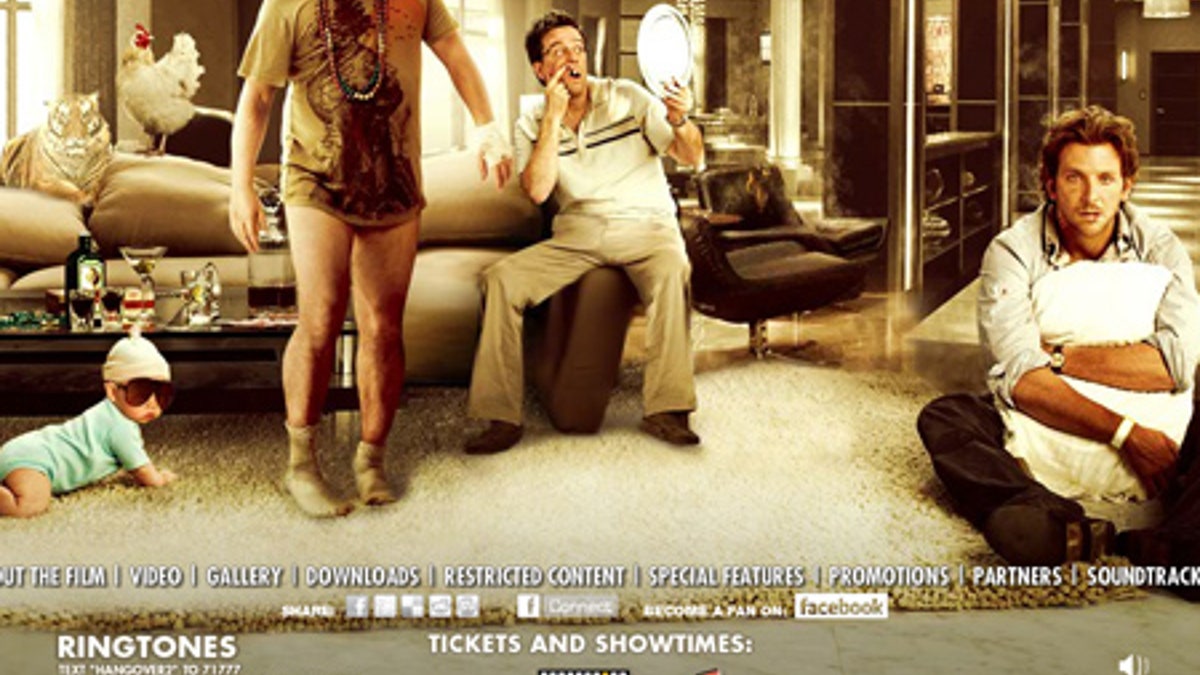 LOS ANGELES – Hollywood nursed another big weekend hangover.
The Warner Bros. comedy "The Hangover" hauled in $33.4 million to remain the top box-office draw for a second-straight weekend, according to studio estimates Sunday.
The tale of a Las Vegas bachelor party gone to extremes raised its total to $105.4 million after 10 days in theaters. It was the summer's first movie to finish at No. 1 for two weekends in a row.
Disney's latest Pixar Animation hit, the action comedy "Up," came in a close second again with $30.5 million. That lifts the acclaimed animated film's total to $187.2 million.
Debuting at No. 3 with $25 million was Sony's action remake "The Taking of Pelham 1 2 3." The thriller stars Denzel Washington as a dispatcher matching wits against John Travolta as the mastermind of a subway hijacking.
Rory Bruer, head of distribution for Sony, said he was pleased with the results on "The Taking of Pelham 1 2 3" and that studio executives expect it to hold up well, since it drew mainly older viewers who do not rush out to see movies over opening weekend.
"Third place and happy about it," Bruer said.
Eddie Murphy delivered a dud with the Paramount family comedy "Imagine That," which debuted at No. 6 with a lackluster $5.7 million. The movie features Murphy as a work-obsessed dad whose daughter's three imaginary friends make him a financial whiz with their smart stock-market picks.
The overall box office was down sharply from the same weekend a year ago, when "The Incredible Hulk" led with a $55.4 million weekend. Total revenues this weekend came in at $140 million, off 22 percent from last year's, according to Hollywood.com box-office analyst Paul Dergarabedian.
It was the third straight weekend that studio receipts declined, continuing a slide that has chilled a red-hot year for Hollywood. Earlier in the year, revenues had surged by more than 15 percent compared to 2008, but the box office now is ahead by only 11 percent.
"The growth rate for the summer box office is stalled. Every week we're systematically dropping down," Dergarabedian said. "That doesn't mean things are terrible. It just means that compared to last year, it was a great weekend for a `Hangover' but not a great weekend for the industry."
A handful of new movies did well in limited release, including Francis Ford Coppola's drama "Tetro," which took in $31,339 in two theaters for a solid average of $15,670 a cinema. That compared to an $8,133 average in 3,074 theaters for "Pelham 1 2 3" and $1,895 in 3,008 cinemas for "Imagine That."
Released by Coppola's American Zoetrope studio, "Tetro" stars Vincent Gallo as an expatriate writer forced to reacquaint himself with a painful family history when his younger brother comes to visit.
Sony Pictures Classics' sci-fi tale "Moon" pulled in $145,218 in eight theaters for an $18,152 average. The film stars Sam Rockwell as a lonesome, homesick worker on the lunar surface whose grip on reality is challenged when a second version of himself appears.
Magnolia Pictures' documentary "Food, Inc." grossed $61,400 in three theaters for a $20,467 average. The film examines the downsides and health hazards of our mass-produced food chain.
Estimated ticket sales for Friday through Sunday at U.S. and Canadian theaters, according to Hollywood.com. Final figures will be released Monday.
1. "The Hangover," $33.4 million.
2. "Up," $30.5 million.
3. "The Taking of Pelham 1 2 3," $25 million.
4. "Night at the Museum: Battle of the Smithsonian," $9.6 million.
5. "Land of the Lost," $9.2 million.
6. "Imagine That," $5.7 million.
7. "Star Trek," $5.6 million.
8. "Terminator Salvation," $4.7 million.
9. "Angels & Demons," $4.2 million.
10. "Drag Me to Hell," $3.9 million.