Hailey Baldwin addresses Justin Bieber marriage rumors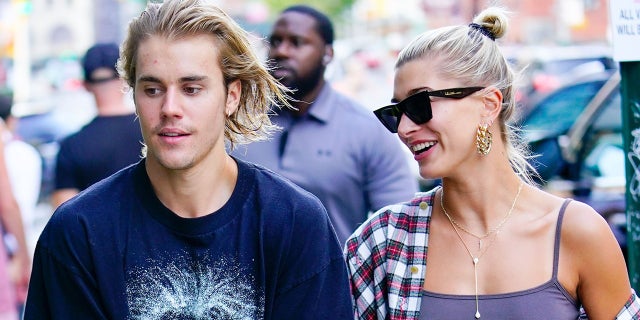 NEWYou can now listen to Fox News articles!
Justin Bieber and Hailey Baldwin, newlyweds?
After multiple outlets reported that the lovebirds tied the knot Thursday in New York City after they were spotted at the Marriage Bureau earlier that day, Baldwin took to Twitter to put the rumor to rest.
"I understand where the speculation is coming from, but I'm not married yet!" she wrote.
A source told ET at the time that while Bieber and Baldwin did register for a marriage license, they were only getting a license and did not have a marriage ceremony.
Justin Bieber and Hailey Baldwin Register For Marriage License at NYC Courthouse
Additionally, TMZ is reporting that Bieber and Baldwin are most likely getting married out of the country, as early as next week and possibly in Canada, where the pop star recently purchased a new home.
The marriage license Bieber and Baldwin obtained becomes valid after 24 hours and remains valid for another 60 days anywhere in the state of New York. Should the lovebirds want to get married overseas, they would have to have a civil service in the state first to make it legal.
Justin Bieber Hangs With Hailey Baldwin's Dad Stephen -- Pics!
"Justin and Hailey are still planning to have a wedding or celebration with their closest friends and family," another source tells ET. "However, Justin is very spontaneous. [He] keeps Hailey and everyone on their toes."
Fans of Bieber also speculated that rumors of the marriage were true when his mother, Pattie Mallette, took to Twitter early Friday morning. "Love is unconditional," she wrote.
This news comes just two months after Bieber proposed to the model while they were vacationing together in the Bahamas. The couple was friends first, meeting nearly 10 years ago and briefly dating in 2015 and 2016.
Hailey Baldwin and Justin Bieber Attend Their First Fashion Show Together as an Engaged Couple
However, the feelings between Bieber and Baldwin "never really went away," according to a third source, which is why it wasn't alarming when they rekindled their romance this summer.
"Justin has always been in love with Hailey and is looking forward to being married," the source told ET earlier this month. "Justin has been in the spotlight for a long time, and his childhood was accelerated. After years of ups and downs, Justin took some time to evaluate everything in his life, took time off his tour [and] music and got to enjoy a more simple life."
"With that time, Justin knew he wanted to spend his time with Hailey and have a future with her," the source added.