Gwyneth Paltrow, Jennifer Aniston redefining fashion rules for women over 40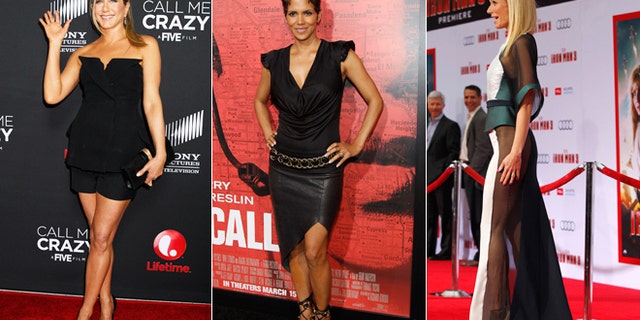 NEWYou can now listen to Fox News articles!
If you've got it, flaunt it right?

During Wednesday evening's Los Angeles premiere of "Iron Man 3," 40-year-old mom of two Gwyneth Paltrow prompted jaws to drop when she arrived on the red carpet in a "nearly naked" Antonio Berardi sheer dress that left almost nothing to the imagination – and caused quite the stir among fans.

"Seriously, what the hell is that?" one person tweeted, another called her "delusional," as several others lamented: "Put it away!"

And yet not everyone is so alarmed.

"It's definitely on trend and each season Ms. Paltrow embraces fashion," Emmy-winning stylist and author, David Zyla, told FOX411's Pop Tarts column. "While an artful design, I'm noticing the dress a bit more than Ms. Paltrow and I believe that all clothing should showcase the person wearing it and not the other way around."
Model and writer Ariane Sommer the see through dress a thumbs up.
"Gwyneth's dress is certainly risqué but she still manages to wear it like some elf queen out of Lord of the Ring," she said. "Her natural elegance allows her to push the envelope more so than some other female stars who in the same dress, might look less than good. And let's be honest: Gwyneth has one of the best figures of the planet."
Thanks to Paltrow and her fellow crop of Hollywood's leading ladies, the rules of age-appropriate dressing are slowly starting to melt away – and hitting the fifth decade is no longer a reason to hang up form-fitting or itty bitty outfits.

In the last few weeks alone, we've also seen Paltrow flaunt her figure in an uber-short, bright purple sheath dress and neon heels at the opening of Tracy Anderson's flagship fitness studio in Los Angeles, and Jennifer Aniston, 44, rock black short shorts at the premiere of Lifetime's "Call Me Crazy: A Five Film." Then there was 43-year-old Jennifer Lopez turning heads in a leopard mini with black thigh-high boots despite the freezing New York temperatures. And even though she is pregnant, Halle Berry, 46, still donned her signature black satin lace dress (with plenty of cleavage) at the premiere of her new movie "The Call" in Brazil last week.

"Several of Hollywood's leading ladies over the age of 40 have decided to 'go for it' in terms of fierce, sexy dressing. What was once thought to be worn by women fifteen to twenty years younger is now being embraced by the likes of Gwyneth and Jennifer," Zyla continued. "They are impacting and redefining the idea of how all women dress, not just those over 40."

And famed London designer Jenny Packham, known for red-carpet dressing everyone from Duchess Kate Middleton and Adele to Catherine Zeta-Jones and Angelina Jolie, echoed that age has become insignificant to the style process.

"I don't think about age much. I know women in their fifties who are really confident about dressing, and women in their 20's afraid to try anything new," she said. "It's irrelevant. I had a collection years ago with short miniskirts, and a friend of mine put it on… At first I thought, 'what are you doing?' But she just looked so happy. It comes down to how you feel, and that's absolutely fine."

According to Zyla, the concept of women and age-appropriate dressing has been rapidly evolving for years.

"One hundred years ago 'good women' at a certain age donned clothing that was subdued and somber. It was thought vulgar to try to recapture one's youth in their clothes and grooming," he explained. "The radical flapper of the 20's was the turning point when women abandoned corsets and long skirts, and the 'fashion is fun' impulse lives on today."

TRESemme Celebrity Stylist, John D, pointed out that on the opposite end of the spectrum Hollywood stars are igniting a trend of dressing older than their years – and that's perfectly acceptable too.

"We see many young women dressing uber-sophisticated," he said. "Take for example Selena Gomez; I have been working with her for many years. She likes a very sophisticated look, but she has a very grown-up personality."

Anne Hathaway, Taylor Swift and Demi Lovato are also known to routinely take on the grown-up, covered up and conservative red carpet approach too. And while the likes of Paltrow, Aniston and Lopez are proof that middle-aged ladies can look just as svelte and sexy as their decades-younger counterparts, experts caution that age fashion rules aren't totally extinct.

"Women need to understand there are ways to looking sexy without having to steal their daughter's clothes," added a fashion publicist and StyleSource.me expert. "I don't recommend them stepping out in a tube top and short shorts, rather focus on choosing pieces that will accentuate their body in a tasteful way."

Pssst… Madonna? Courtney Love? Are you listening?