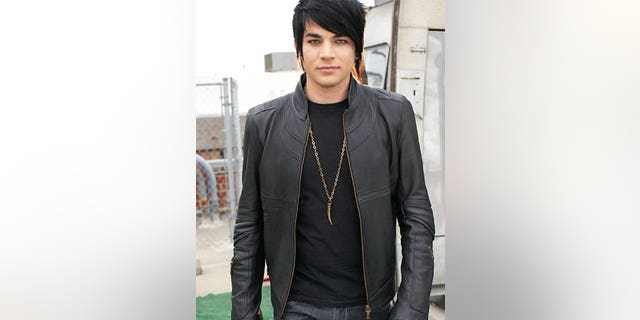 NEWYou can now listen to Fox News articles!
The results are in, and the new "American Idol" is Adam Lambert — whaaaa? Oh, sorry. Apparently the new "American Idol" is Kris Allen. But there's been a lot of debate over whether audiences were ready for "A.I.'s" first gay winner. So far Adam's sidestepped talking about his sexuality, but Americans voted in record numbers, and we wonder if their assumptions about his personal life were a factor.
So far Adam's sidestepped talking about his sexuality (he told People magazine that anyone who cares can "keep speculating," because he's not saying). But Americans voted in record numbers, and we wonder if their assumptions about his personal life were a factor. Meanwhile the debate about same-sex marriage is making headlines across the nation, as state legislatures, appeals courts, and voters take on the contentious issue.
So we can understand why some celebrities still feel that coming out of the closet puts their careers at risk, and why others just feel it's nobody else's business. However, we admire those who've been courageous enough to say it loud and proud, just as we're amazed by the number of stars over the years who've felt they had to stand up and say, "I'm not gay."
Photo gallery: How accurate is your gaydar? See which stars are gay and which are not.
Ellen DeGeneres – Came Out in 1997
It was the most high-profile coming-out of all time. In 1997 comedienne and actress Ellen DeGeneres graced the cover of Time magazine, along with three simple words: "Yep, I'm Gay." Not long after, on her titular sitcom, Ellen's onscreen alter ego Ellen Morgan came out too. While the gay and lesbian community rejoiced, the studio received bomb threats, sponsors JCPenney and Chrysler pulled their ads, and an angry Jerry Falwell dubbed the sitcom star "Ellen Degenerate." The show struggled under the pressure and was cancelled the following season. Ellen struggled in her personal life as well, amidst the crushing media frenzy surrounding her public relationship with actress Anne Heche. Ellen retreated, regrouped, and ultimately reemerged with the now multi-Emmy-winning daytime talk hour, "The Ellen DeGeneres Show," and a beautiful new bride, actress Portia de Rossi.
Hugh Jackman – Denied Being Gay in 2003
Maybe the rumors started because the very straight Jackman took on the role of a very openly gay entertainer in a musical, "The Boy from Oz," and was flawless. He sang, danced, and acted, captivating audiences with a truly riveting performance. Regardless of how it started, the Hugh Jackman talk has persisted for years. While the gossip bugs his wife, Deborra-Lee Furness, who constantly denies the rumors, Hugh would rather just ignore it. He says that denying homosexuality makes it seem shameful — and he doesn't feel there's anything shameful about it. You go, boy.
Lance Bass – Came Out in 2006
Imagine the pressure: you're in a successful boy band with four other guys relying on your mutual sex appeal to keep their income flowing, and you have millions of screaming young, impressionable tween fans. No wonder it was tough for Lance Bass to come out. But when he found himself in a stable (at the time, at least) relationship with "Amazing Race" winner Reichen Lehmkuhl amid ongoing scrutiny about his personal affairs, Bass decided to take his life into his own hands and free himself from his secret.
Jodie Foster – Kinda Came Out in 2007
Legendary film actress Jodie Foster has never officially come out. Famously private, she doesn't discuss her personal life in interviews. However, when she received an award at the Hollywood Reporter's Women in Entertainment luncheon in 2007, an emotional Jodie thanked "my beautiful Cydney, who sticks with me through the rotten and the bliss." The Cydney in question was film producer Cydney Bernard, Jodie's partner of 15 years, with whom she'd been raising her two children. Sadly, just five months later, Jodie called the whole thing off. Seems the rotten must have started to outweigh the bliss.
Oprah Winfrey and Gayle King – Denied Being Gay for Decades
Oprah felt the need to start denying rumors back in 1997 when she appeared in the coming-out episode of "Ellen" and gossip columnist Liz Smith leaked a tip that another unknown icon was about to leave the closet. After a media frenzy identifying Oprah as the icon, she went on record to say, "I'm not gay." Her longstanding friendship with gal pal Gayle King and her lack of desire to marry boyfriend Stedman Graham have kept the rumors alive ever since. In 2006, she came forward again, this time in her own magazine "O," saying that she and King were just BFFs, once again declaring, "I'm not gay." Lots of people seem to have accepted that, but not everyone. The very outspoken (and lesbian, we might add) comedienne Rosie O'Donnell jumped on the story, saying that after watching footage from Oprah and Gayle's cross-country vacation, she was sure they were "together," claiming that people don't have to be physically intimate to be a couple.
Cynthia Nixon – Came Out in 2006
For her role as "Sex and the City's" Miranda Hobbs, Cynthia's a heroine to single girls everywhere struggling to find Mr. Right. She's also the mother of two children with her former partner of 15 years, English professor Danny Mozes. So people were shocked when tabloid rumors spread in late 2004 that Cynthia was seen around town with a woman, Christine Marinoni. In fact, Nixon and Marinoni had been a couple most of that year. As for her sexuality, Cynthia said she didn't consider herself straight or gay, and that her relationship was not the result of some big epiphany that led to her coming out. She simply used to be with men, and now she'd fallen for a woman. Apparently, the woman thing is forever: news of the couple's engagement broke this month.
Clay Aiken – Came Out in 2006
Lots of people suspected that "American Idol" finalist Clay Aiken was gay, but he refused to comment. Kathy Griffin fueled the fire by calling him "Gayken." Again, he refused to comment. Yet when Aiken's friend and surrogate, Jaymes Foster (record producer David Foster's sister), gave birth to his first child on August 8, 2008, Clay made a decision to tell the world he was gay as an example to his newborn son that he should always be true to himself.
Eric McCormack – Joked About Not Being Gay in 2002
Playing a gay character on TV can lead people to mistaken conclusions. Such was the case for "Will & Grace" star Eric McCormack, who was constantly being cited as a gay man, despite the fact he was married and had a child. So common was the misconception that when Eric hosted "SNL" in 2002, his opening monologue revolved around the topic, with flamboyant "audience members" explaining they could relate to McCormack because they weren't gay either.
Kelly McGillis – Came Out in 2009
McGillis is best known as Tom Cruise's sexy love interest in "Top Gun," and in real life she was married and divorced twice and has two grown daughters. But in April 2009, Kelly came out, saying she was single, on the market, and looking for a girl to love, stating definitively, "I'm done with the man thing."
Ian McKellen – Came Out in 1988
Before Ellen DeGeneres, there was Ian McKellen. The classically trained British actor came out on a live radio program in 1988. McKellen had hidden his sexuality for years in order to protect his career, but when the conversation that night turned to British legislation that would ban the promotion of homosexuality in schools, Ian could no longer hold his tongue. As a result, the movie star became involved with Stonewall, a U.K. gay and lesbian activist group, and could unselfconsciously command a Cable ACE Award-winning role in 1993's AIDS drama, "And The Band Played On." The Academy Award-nominated actor was knighted in 1991 for his contributions to the world of British theater, but he's better known to contemporary movie audiences as Gandalf in the "Lord of the Rings" films and "The X-Men's" Magneto.
Dolly Parton – Denied Being Gay in 2009
Also no stranger to the "you're-gay-because-you-have-a-very-close-same-sex-best-friend" rumors is country superstar Dolly Parton. Despite her 43-year marriage to Carl Dean, Dolly came forward in March to deny rumors that she and her assistant, Judy Ogle, are more than just good friends. Dolly herself admits that having a large gay following has led to misunderstandings and death threats before, but she doesn't let it get to her. "Some people are blind or ignorant, and you can't be that prejudiced and hateful and go through this world and still be happy," she said in 2006. "It's all right to be who you are."
More at GetBack.com:
Like, Oh My God, Where Are Those '80s Artists Now?