Gay Characters on TV Comedies Increase, Group Says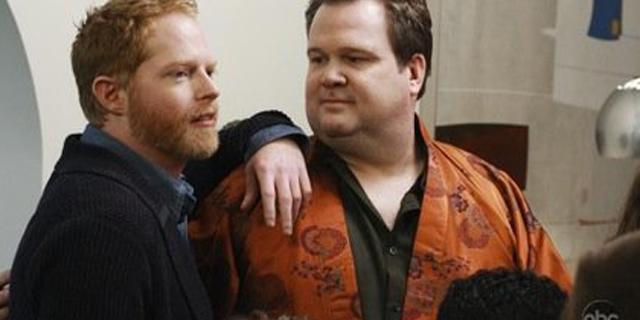 Regular and recurring gay characters on American TV shows increased in the comedy genre, but remained static in dramas, according to the Gay & Lesbian Alliance Against Defamation.
The total number of gay and bisexual characters on scripted broadcast network TV has risen slightly this season to 23 out of a total of nearly 600 roles, GLAAD said.
The 15th annual "Where We Are on TV" report released Wednesday found that 3.9 percent of actors appearing regularly on prime-time network drama and comedy series in the 2010-11 season will portray gay, lesbian or bisexual characters.
That's up from 3 percent in the 2009-10 season. The increase in 2008-09 was 2.6 percent.
Only six of the 23 gay and lesbian characters this season are nonwhite, GLAAD found.
Using information provided by ABC, CBS, Fox, NBC and CW, the group reviewed 84 scripted series announced to air this season.
The only original programming announced by the gay-focused cable networks here! and Logo is unscripted, alternative programming, so they were not part of this year's character count, GLAAD said.
While the number of broadcast drama series featuring regular or recurring gay characters is unchanged from last year, the number of comedy series has increased from eight to 11, including new comedies "Running Wilde" (Fox), "Hellcats" (CW), "(Bleep) My Dad Says" (CBS), and midseason show "Happy Endings" (ABC).
ABC led the networks in gay representation, with 7.2 percent or 11 regular characters out of a total of 152, followed by Fox with five out of 100 (5 percent).
On mainstream cable channels, the number of regular characters rebounded to 35 after a two-year decline.
HBO features the greatest number of gay and bisexual characters, with 10 regular and recurring characters.
The HBO drama "True Blood" is the most inclusive series on television, featuring six characters, the group found.
The overall increase in gay characters "not only reflects the shift in American culture towards greater awareness and understanding of our community, but also a new industry standard that a growing number of creators and networks are adopting," GLAAD President Jarrett Barrios said in a statement.
He pointed to such programs as ABC's "Modern Family" and Fox's "Glee" as indicators that "mainstream audiences embrace gay characters and want to see well-crafted stories about our lives."