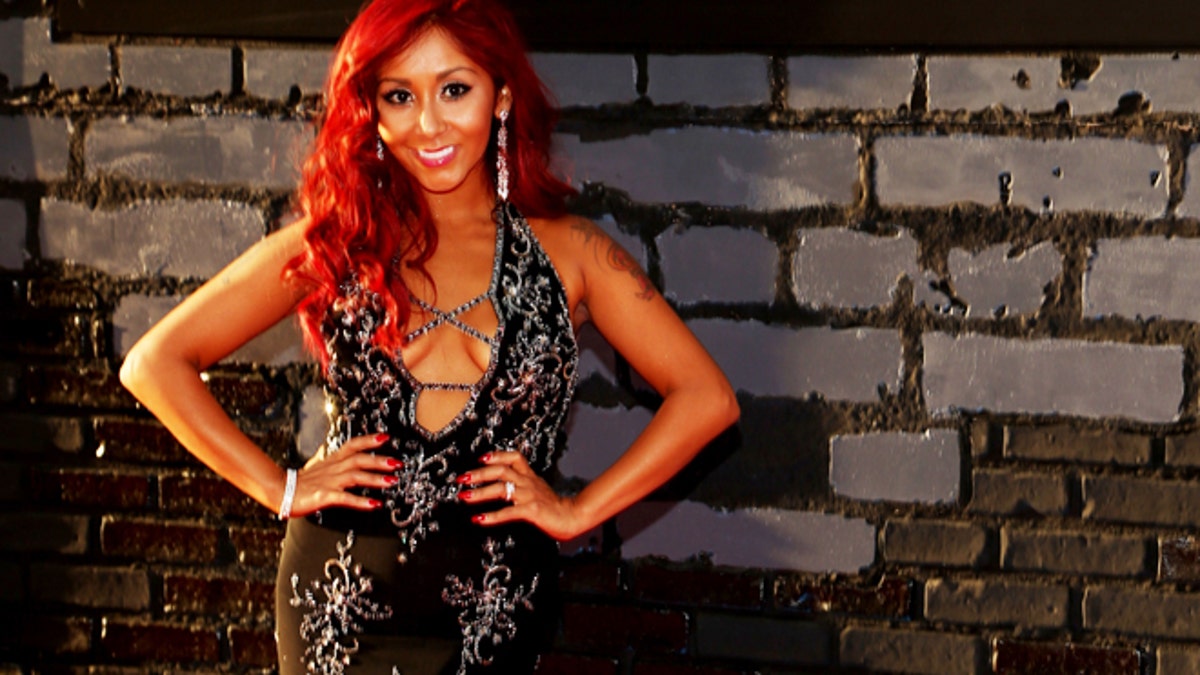 When Nicole "Snooki" Polizzi stumbled into the spotlight as the breakout star of MTV's controversial "Jersey Shore" in 2009, she became a household name thanks to her hard-partying, booze-chugging, boy-chasing public persona. Now four years later, MTV's "Jersey Shore" is long gone but being Snooki is still a big business.
"I think after my son I finally decided to grow up," she told FOX411. "My son has taught me the true meaning of life and my outlook on everything has changed. Now I feel like a woman and love to do new things in life I never thought I would be doing."
Polizzi, who gave birth to a son Lorenzo in August last year with fiancé Jionni La Valle, hasn't shed her MTV skin completely – season three of her spinoff "Snooki & Jwoww" debuts on the network in October, but this time she doesn't need to drink to oblivion to attract eyeballs. The series has brought in an average of 2 million viewers throughout its course, a little under "Jersey Shore" which averaged 2.9 million in its sixth and final season, but still enough to keep audiences and executives satisfied.
The 25-year-old is also now trying her hand at a different style of reality television: She'll be swirling and twirling with pro partner Sasha Farber to compete in the upcoming season of ABC's "Dancing with the Stars." And when it comes to personal health and wellbeing, Polizzi has done a 180. The former beer chugging starlet has now become a health, fitness and even mothering icon.
"I mainly wanted to become healthy for my son," she explained. "I always pictured myself to be a fit mom and that's exactly what I accomplished. I didn't lose the weight for my career, but it is great to see how I am inspiring other mothers to lose weight, and just girls in general to lose weight the healthy way."
The prominent personality, who boasts an estimated net worth of around $4 million and is reported to now command about $175,000 per MTV episode, graced the cover of Us Weekly earlier this year to show off her 42-pound weight loss. She then appeared on The Dr. Oz Show to discuss her healthy living tips and share her favorite recipes, as well as advocate a desire for a strong as opposed to a skinny body.
"When you see someone who was living a life that I would have chastised a daughter for living and then realizes now that she has her own child and doesn't want that to be her legacy, it becomes a wonderful to experience to watch her grow up in front of all of us in a very soulful, tasteful fashion," host Dr. Mehmet Oz told viewers. "It's a wonderful opportunity for her to be a role model for a lot of other folks to observe. She went from being a naughty girl to a good girl which is of course simplistically stated, but that's something that many of us aspire to do."
Polizzi's parenting words of wisdom also get mainstream acceptance – well, maybe with a few sly smiles thrown in there. She wrote an open letter to Kate Middleton last month, a few days before the royal birth, cautioning the Duchess about sleep deprivation and offering tips like singing to calm those infant tears. Her letter was published everywhere from Huffington Post to USA Today to Entertainment Tonight and E! News.
And during her time in the spotlight, she has published three books --becoming a multiple-time New York Times best-selling author in the process-- in addition to building a brand around fashion and makeup, and even her own Team Snooki Boxing in conjunction with Final Round Promotions. Want Snooki to speak at your event? Plan to shell out around $75,000.
"What people may not have considered was that Snooki always was a mature, analytical individual who was just about giving the public what they expected of her so she could maintain the spotlight. But in my dealings with her even then she was mature and intelligent," Hollywood reality television agent Marc Marcuse dished. "And a lot of her fans that were crazy while she was have started to grow up into adults and parents as well. The timing is most likely parallel for a significant portion of her fan base."
And in spite of the staunch condemnation she and her tanned and greased co-stars received when they put Jersey on the map, Polizzi doesn't have a single regret.
"Everything that I've done in the past has led me to be the person I am today," she insisted. "I'm so happy where I am. Everything happens for a reason."
So does that mean miracles can happen even when MTV is involved? Some critics aren't quite convinced.
"It may be far from reaching a fairytale conclusion. Snooki has an adorable son and a fiancé, but she also has a history of eating disorders, alcohol abuse and explosive relationships with men," cautioned sociologist Dr. Hilary Levey Friedman. "Overall the message of Snooki's 'transformation' sets up unrealistic expectations for young people: behave poorly--flashing your private parts and getting sick on national TV-- but end up a multimillionaire."