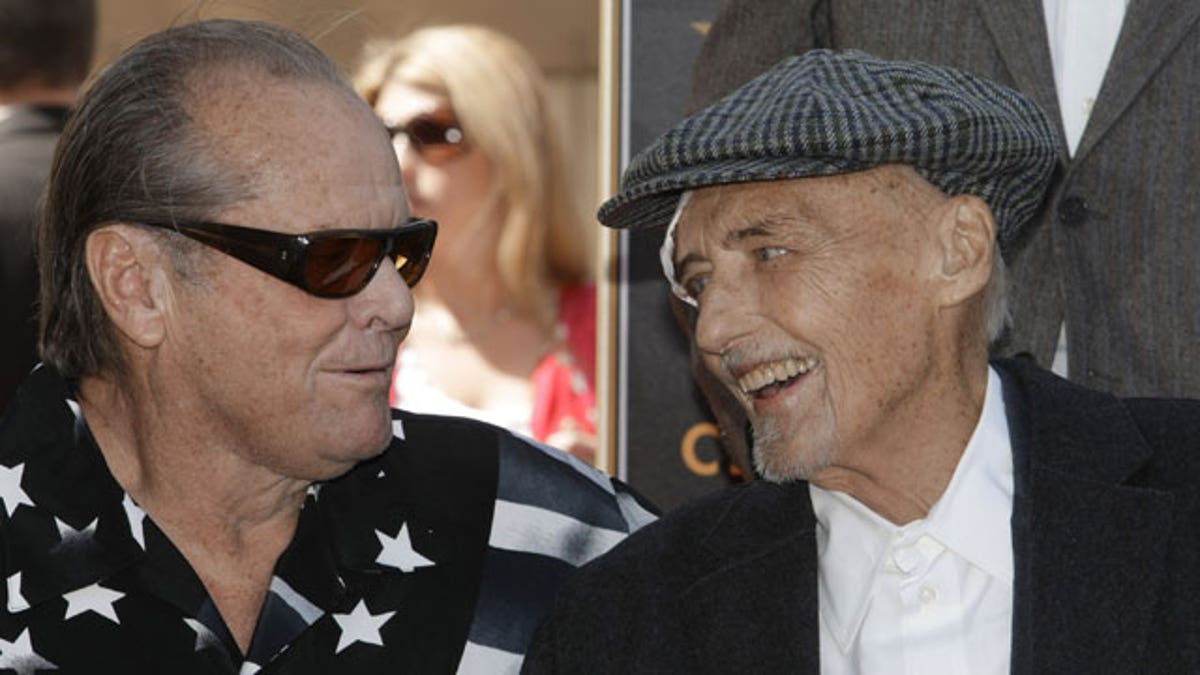 Dennis Hopper, who is said to be losing his battle with advanced prostate cancer, still managed to smile and exude that witty sense of humor as he addressed hundreds of fans, family, friends and press on Hollywood Boulevard while receiving the 2,403 star on the Walk of Fame on Friday.
The noticeably emaciated "Easy Rider" star spent most of the ceremony seated, but after being carefully assisted up to the platform, he was quick to attribute the various bandages on his face and body to prying paparazzi.
"Yesterday, I got up and out of the house and someone yelled 'Hey Dennis!' I thought I recognized the voice, so I kept walking and turned around but I didn't see the little ridgeline in the road and I took a terrible fall because I have no muscle," Hopper, in his signature pageboy cap, said softly. "So I fell directly on my face, and I had my glasses in my hand. I got pretty screwed up. I know you (the paparazzi) have a tough job, but sometimes you should be a little more sensitive."
The ailing actor then thanked his beloved friends and family for being the sculptors of his success.
"Everything I've learned in my life, I learned from you and the wonderful world that I traveled and saw...well, I got it all from you," Hopper added. "This has been my home and my school. And I love all of you. I just want to thank you. This means so much to me, and thank you very much, everyone."
The 73-year-old was joined by a bevy of Tinseltown legends for the momentous occasion, including Jack Nicholson, David Lynch and Dwight Yoakam. And his close friend of over 20 years, Viggo Mortensen, gave us an emotional insight into why Hopper truly is deserving of the coveted Hollywood star.
"My love for him is unconditional. We have continued to share a mutual curiosity in our artistic way of living life. Dennis Hopper has remained a constant source of ideas, humor and inspiration," Mortensen said. "He keeps himself honest and those around him honest. His candor and his modesty inspire fearlessness in others – this sets him apart as an artist and as a friend."
And what is it that Jack Nicholson loves most about his "Easy Rider" co-star?
"Everything," he told Pop Tarts exclusively after the ceremony.
Hopper's 19-year-old son Henry also attended the ceremony, but fled the scene visibly upset when questioned about his father's health condition.
The actor's attorney also revealed earlier this week that his star client was down to a mere 100 pounds and was too weak to continue chemotherapy or to be questioned by his wife's divorce attorney.
Hopper filed for divorce from his wife of almost 14 years, Victoria Duffy, in January this year and has since been granted a restraining order that prohibits her from communicating with him via any electronic form of communication or coming within 10 feet of himself, his adult children or his personal assistant.