Finland's Heavisaurus: Half Black Sabbath, half Barney the dinosaur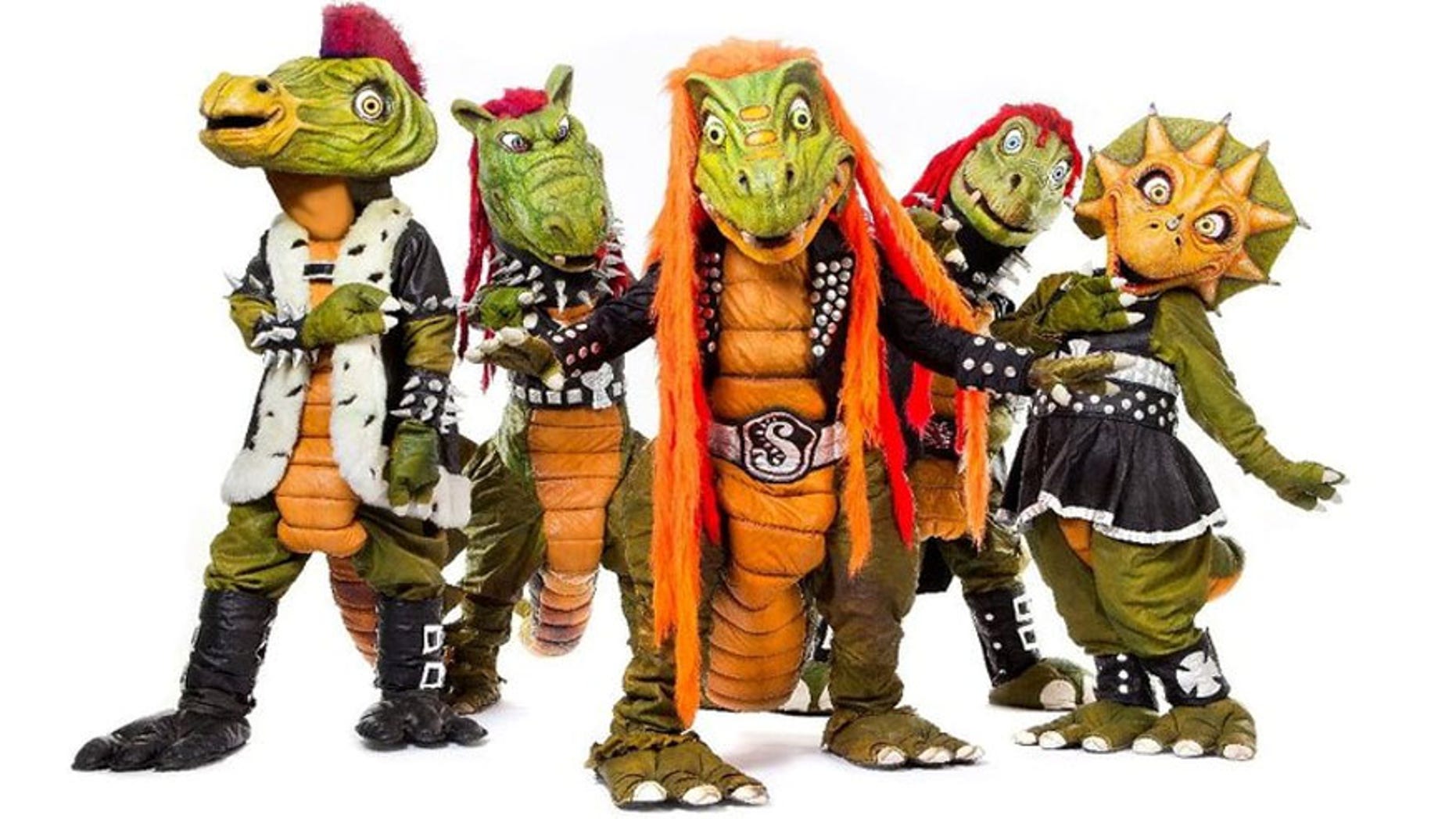 Finland's biggest musical sensation is a kid-friendly mashup of Black Sabbath and Barney the dinosaur.
Hevisaurus — which has so far remained under the radar outside of Scandinavia — features five interchangeable musicians shredding heavy metal tunes about homework, monsters and drinking milk while dressed in rubber reptile suits.
"Heavy metal is mainstream music in Finland," says producer Nino Laurenne, who helped create the jurassic rock act in 2009. "So it's kind of normal that we would have this kind of band here. It seems like a totally crazy idea: dinosaurs playing heavy metal for kids. But hell, it's fun!"
With 91 tracks already recorded (mostly in Finnish), Laurenne admits he is starting to run out of ideas for new songs.
"There is already a lot of stories about animals," he tells FOX411. "We actually have one song about a penguin with a sore throat. He is traveling around the world to Norway, which is the home country of black metal, to find the cure for his throat."
The legend — as it is spun to kids — tells of Herra Hevisaurus, Milli Pilli, Riffi Raffi, Komppi Momppi and Muffi Puffi being hatched from metallic eggs that somehow survived extinction 65 million years ago.
They were unearthed when lightning struck the Mountain of Wizards during a witches' ritual.
Milli, the lone female character, has helped make Hevisaurus just as popular with school-age girls as boys.
The band has already won Finland's version of the Grammy Award, inspired four live musicals and sold more than 170,000 CDs and digital downloads.
"That is sh--loads for Finland!" Laurenne confirms. "It is the biggest thing in children's music."
This month, Hevisaurus will star in its first feature film. The plot, according to Laurenne, involves an evil businessman who tries to capture all the Hevisaurus characters and confine them to his amusement park.
The "Hevisaurus" movie is only expected to be released in Finland, but the band has put out versions of its music in both Argentina and Sweden, with local singers performing the vocals in their native languages.
A German release is planned for 2016, but there are currently no plans for shows in America or recordings in English.
According to Laurenne, Hevisaurus — which performs its live shows at a child-appropriate 85 decibels — is the rare heavy metal act the whole family can enjoy together.
"The lyrics go on two levels sometimes, like in the movie 'Toy Story,'" he says. "Parents are laughing at the same time as their kids, but for different reasons.
"When we compose the songs we try to take the ideas from here and there."
"One song might have something [inspired by] KISS or Iron Maiden. Not too close, of course. But the vibe is pretty much the same. So when parents are listening to Hevisaurus, they are like 'Hey, I have listened to this one somewhere before…'"