'Fifth Harmony' Riding The Wave After Demi Lovato Tour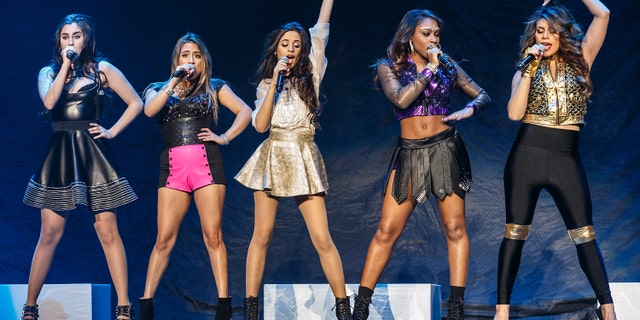 NEWYou can now listen to Fox News articles!
The ladies of Fifth Harmony are riding on cloud nine.
They just completed a nationwide tour as an opening act for one of their idols and mentors Demi Lovato and are now full steam ahead with a summer tour of their own and an upcoming album.
"It's been amazing," Camila Cabello, 17, told Fox News Latino. "We met her through the show ('X Factor') and to open for her was awesome, life-changing. Something I would never forget."
One of her partners in crime, Lauren Jauregui, 17, echoed Cabello's feelings about the tour that recently ended, saying the best part was that fans also went to see them perform, not just Lovato.
The group showed their thanks to Lovato with a good-bye prank at their last concert earlier this week.
Cabello said the "Neon Lights" singer pranked them several times throughout the tour, popping up on stage while they were singing. One time, she said, Lovato jumped out and started to silly string them. So, she added, they wanted to get back to her.
"Dinah (Jane Hansen) is the prankster of the group and she got a dream cake and went up to Demi and said 'Demi, I love you' before throwing the pie at her," Cabello said. "All hail queen Dinah."
Fifth Harmony – which also includes Ally Brooke Hernandez and Normani, Kordei – was formed after the girls successfully auditioned as solo acts for the "X Factor" in 2012. They didn't make it through bootcamp, but music mogul Simon Cowell saw something more and made them into a group.
The group finished in third place.
"Since the show, we've been able to grow our sound," Jauregui told Fox News Latino. "We continue to grow and it's great to see people responding to us."
In the process they have been able to play sold-out concerts and have met some amazing people along the way — like Ed Sheeran and Ciara.
"We've met so many people we looked up to and continue to look up to," Jauregui said.
In the fall of 2013, Fifth Harmony released its first EP called "Better Together," which was followed a month later by a Spanish version titled "Juntos."
"We are Hispanic and we are proud of our culture so we wanted to show our roots," Cabello said.
Something, they said, has helped them gain a lot of loyal fans among the Latino community.
"Oh my God, the Latino community has been incredible," Jauregui said. "They are so loyal and committed."
The ladies of Fifth Harmony are taking this to Texas this weekend where they will play a small concert presented by AT&T for ticket holders at the NCAA tournament. They will be singing a song in Spanish, but would not reveal which one.
"It's a pop song. Kind of a throwback," Cabello said.
Meanwhile, the ladies are also working on their next album, which they described as being a little bit more urban in feel, but still keeping some of their pop background.
"The sound is more R&B, so more of a challenge for us," Cabello said.