Farrah Fawcett maintained close bonds with family, friends after becoming famous, says pal: 'She loved being part of a family'
Farrah Fawcett's heavenly features may have captivated audiences across America as the beloved blonde pinup from "Charlie's Angels," but one pal insisted the Hollywood sex symbol was completely down to earth when cameras stopped rolling.
"I loved going to her beach house and spending the weekend with her getting manicures and massages and reading fashion magazines," her best friend Alana Stewart recently told Closer Weekly. "It was like having a slumber party."
The 73-year-old former model also revealed Fawcett enjoyed the comfort of being at home, especially during the holiday season.
"We always baked pies on Christmas Eve," Stewart recalled. "We used her mother's recipes: pecan pie, coconut cream pie, chocolate pie and cornbread stuffing. Her last Christmas Eve, she would not miss it, even though she was sick."
Stewart added Fawcett was incredibly close to her parents and doted on her longtime partner, actor Ryan O'Neal, as well as their son Redmond.
"She loved being part of a family," said Stewart. "Ryan was the love of her life and vice versa. They had their ups and downs, but they loved each other so much and were together until the end. He never left her side."
Fawcett's former assistant, Mike Pingel, also told the magazine the actress took her career seriously and was always eager to find innovative ways to expand it.
"She was the smartest businessperson I ever knew," said Pingel. "She was a pioneer as far as products and knowing what her image was worth. A lot of the movies she did were about women taking back their power. [Had she lived] she'd probably be at the forefront of the #MeToo movement."
Before Fawcett passed away in 2009 at age 62 from anal cancer, she chronicled her health battle in an NBC documentary titled "Farrah's Story." The New York Times reported Fawcett initiated the project with Stewart after she first learned of her cancer. An estimated nine million people viewed it.
The newspaper shared Fawcett's cancer ordeal first began in 2006 and then she was declared cancer-free in 2007 after doctors removed a tumor. The cancer returned and spread to her liver despite Fawcett's efforts to fight back with an alternative treatment in Germany.
Closer Weekly added Stewart now runs the Farrah Fawcett Foundation for cancer research in her memory.
"She gave people courage, hope and inspiration," she said. "[Farrah] said, 'I'm almost glad I got cancer because now I can make a difference.'"
Shortly before her death, The Guardian reported Fawcett allowed Stewart to record her final days as she "writhed in agony, clutching a rosary, in a hospital bed."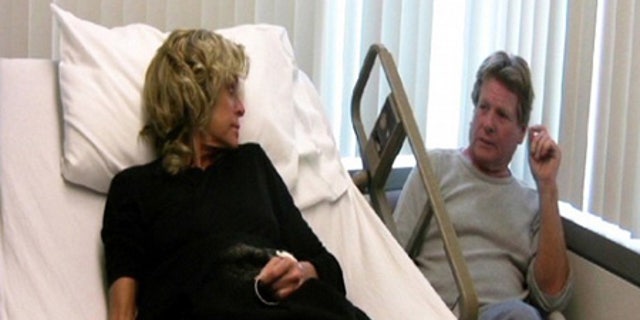 "She was projectile vomiting and she looks up at me and says, 'Why aren't you filming this? This is what cancer is,'" said Stewart at the time.
Fawcett concluded her documentary by explaining she hoped her terminal cancer will spark more research in hopes of saving more lives.
"Why is there not more research into certain types of cancer?" she said. "Why doesn't our health system embrace alternative treatments that have proved successful in other countries? I have got cancer, but I'm alive. What are you fighting for?"
Fawcett's "Angels" co-star, Jaclyn Smith, who was diagnosed with breast cancer in 2002 and overcame the illness, told Fox News in April she still had fond memories of her time on set.
"We had laughs, we had so many laughs," said Smith. "Angels in chains, being chained together. Eating lunch together. It was an education and it was eye-opening because each girl was so unique with her own personality and style. And these are my friends today. That bond is what I really remember.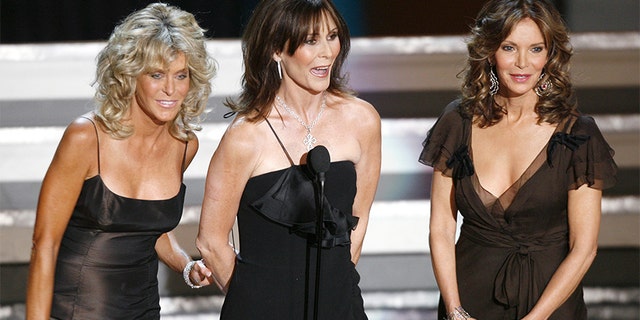 "The friendship is what I treasure from that. The friendship. Aaron Spelling was so dear to me. He's somebody I miss. He was a personal friend, as well as the producer of that show and the creator. We've lost some people. John Forsythe, what a gentleman. David Doyle. And of course Farrah. It's bittersweet to think back."