Experts: Kim Kardashian airbrushed to look thinner on US Weekly cover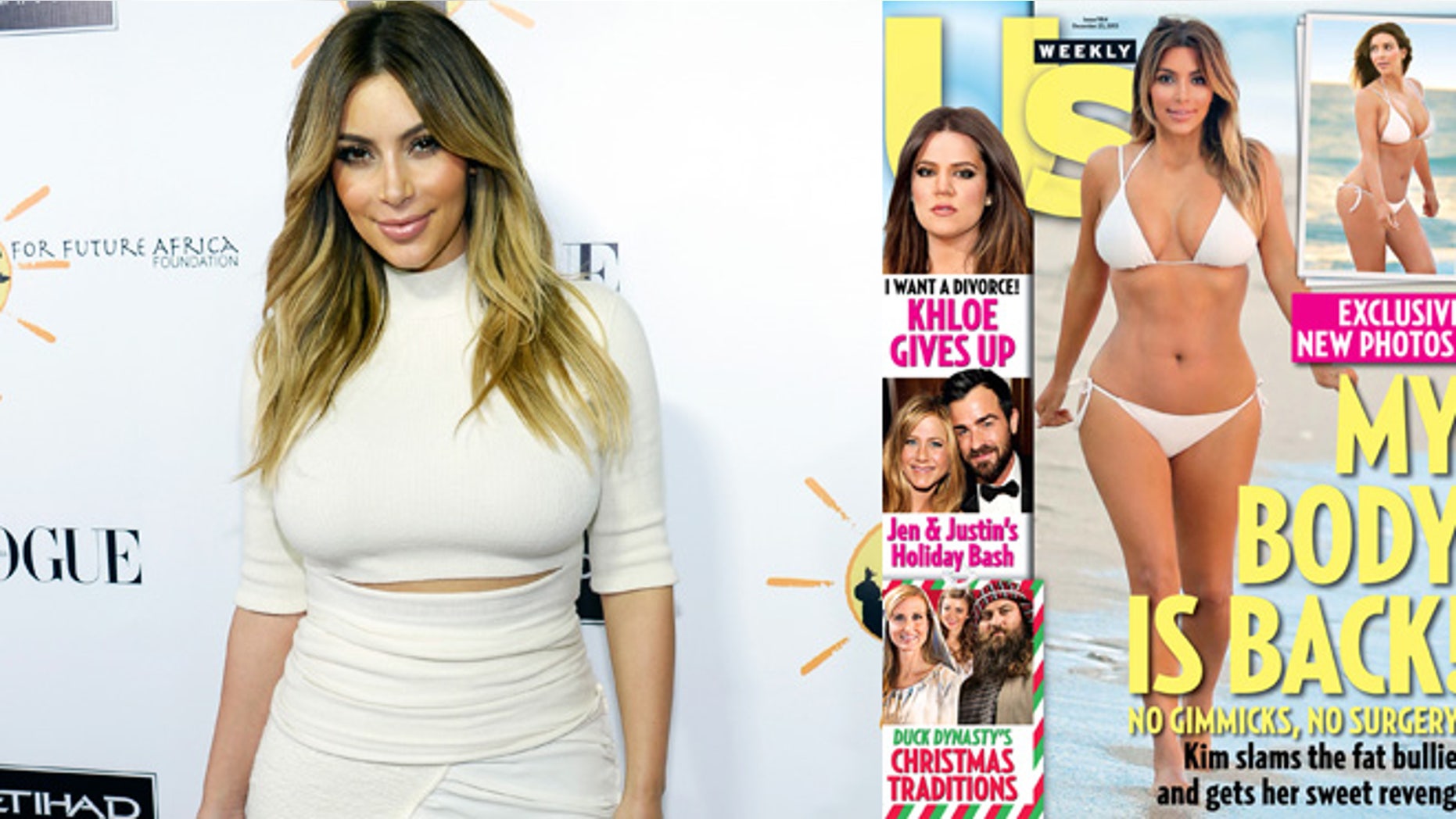 NEW YORK – Well that's one way to lose weight after giving birth.
US Weekly published photos of a slim and trim Kim Kardashian walking on the beach in a bikini with the headline: My Body Is Back.
There are just two problems with that statement. (1) Kim didn't pose for the photos or talk to the magazine. And (2), experts we talked to say the cover photo is airbrushed to make her thinner.
FOX411 reached out Kim's rep who told us "We didn't do an US Weekly cover. I haven't seen it yet. I'm told they have used paparazzi shots."
The rep said the pictures were not approved by the Kardashian camp, but were probably taken in Miami over the Thanksgiving weekend.
Kardashian gave birth to a baby daughter on June 15. On US Weekly's website, some comments said the post-baby bikini photos looks photoshopped, and with some even noting the brunette stunner's head looking oddly small.
Experts mostly agreed.
"I qualitatively think that it looks like they airbrushed the neck  -- not the head…she has a naturally small head --  which makes her head look 'off' and her hips," said Chris Spagnuolo, editorial director of Guyism.com." [Her] waist doesn't look normal, especially compared to all of the other full body bikini photos of her."
Bill Swift, editor at celebrity site Egotastic.com said "the photo has been touched up heavily. But that's fairly standard, especially for covers."
"I'd need to see the original higher definition image to say for sure if it's a head transplant," he added. "The hair obviously matches her current look. I looked at a bunch of other Kim Kardashian bikini photos and didn't see this same pose, however, it's not uncommon to use old photos and substitute them for new. She has often been shot before in white bikinis. I'd also say that I've noticed Kim's head is noticeably small for her body. Some people have bigger heads, some have smaller heads, and Kim's is clearly smaller. Make of that what you will."
Another photo editor added: "I don't think that is someone else's body with her head on it, but it does look heavily retouched."
US Weekly did not respond in time for our deadline.