'East Los High' teen drama brings Latino discrimination to the table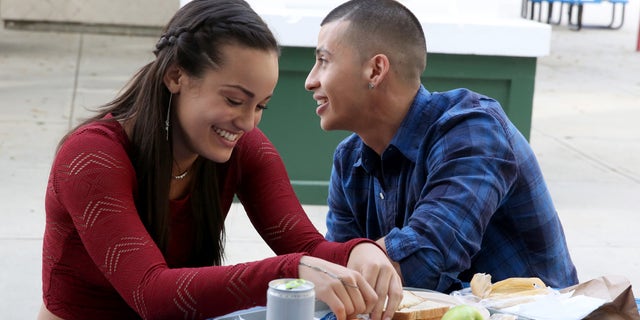 Hulu's original hit show "East Los High" has returned for season 3 — with a vengeance.
Drama, backstabbing, heartbreak, cheating, fighting, sex, drugs will plague the students (and families) of East Los Angeles.
In the midst of it all we will be introduced to a new character, Eddie, played by "The X Factor USA" alum Carlito Olivero, who puts a light on the undocumented teenager struggling in the darkness of a broken immigration system while trying to survive his teen years.
"Eddie represents the struggle of hundreds of undocumented teenagers in the United States," Olivero told Fox News Latino recently. "With everything that is going on in politics, with Donald Trump saying stuff, (Eddie's) story brings attention [to the fact] that we are all human beings."
The 26-year-old Chicago native said getting into the role of Eddie was "very emotional," as it brought back a lot of memories of his youth growing up as a Latino kid in the United States. He said although he is a U.S. citizen, playing the role reminded him of the many times he felt discrimination.
"Eddie was dealt the bad cards of life," Olivero said, adding that the storyline will have a positive side thanks to Gina Barrios, played by fellow "X Factor USA" alum and friend Alexandra Rodriguez. "It really hit close to my heart. I fell in love with the character knowing that there are millions of Eddies out there," she said.
Rodriguez told FNL season three of "East Los High" brings just the same amount of heartbreak, drama, fun as the first two seasons – just better.
She said the show's success is due to relatable storylines not just for Latino teens, but teens in general, who are struggling with family, school, sex, drugs and more.
"You never know how people are going to perceive our work. We are all super grateful for being part of this movement," she said.
Olivero said he got to know the show after Rodriguez joined up in season 2. At first he agreed to take Eddie's role to support his longtime friend, but then the storylines and good writing drew him in.
"We are not afraid to talk about the bad in life," he said. "Other shows have to keep it PG… but life, it's not pretty. What we show is reality. It happens."
"(This show) is bringing Latinos back in a good way, bringing some positive light to the community and pushing the envelope," Olivero added.
Like us on Facebook
Follow us on Twitter & Instagram