'DWTS' recap: Perry says he 'lost the debate' during duel with Vanilla Ice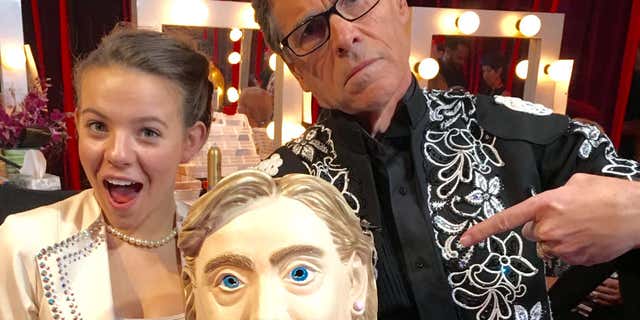 The "Dancing with the Stars" dilemma on Monday night was a time crunch. Because of the Presidential debate, the show had to get 12 remaining couples to dance in a shortened one hour live broadcast.
ABC's ingenious solution was to compress the dances into a "Face Off" challenge featuring two couples dancing the same style back to back, but to different songs. The higher scoring couple would receive immunity from being eliminated on Tuesday night's show.
Also, the four judges were muzzled, giving only their scores and no comments.
The speedy evening began with host Tom Bergeron flying solo in hosting as Erin Andrews was with her hockey player boyfriend Jarret Stoll, mourning the loss of his nephew. (On Tuesday night's two hour show, Kym Johnson will substitute for Andrews). During the night, "DWTS" teased the debate with a funny dance pro pair in masks playing Donald Trump and Hillary Clinton performing the tango.
When Kenny "Babyface" Edmonds and Allison Holker went up against Jana Kramer and Gleb Savchenko in the jive, the country singer came out on top, with 26 points to his 25 (out of a possible 40).
Former Texas governor Rick Perry and rapper Vanilla Ice developed a surprising "bromance" behind the scenes as they competed in the Paso Doble with their partners. Why? Both stars are from Texas.
The two tied with a 23 score, but Judge Len Goodman delivered the tiebreaker vote and decided the "Ice Ice Baby" singer should get immunity. A sportsmanlike Perry gave Ice a high five and a hug.
Ice, whose partner is Witney Carson, marveled backstage, "He's awesome. Who would have ever thought a governor would be so funny? We're always laughing when we're together so we enjoy each other's company. That's what it's all about…We're cracking up and he's got the coolest pair of boots I've ever seen."
Meanwhile, Perry, who performs with Emma Slater, told FOX411, "I know exactly where I made the mistakes." The longtime politico said (in a nod to the later event on everyone's minds), "We lost the debate. But the people are going to be the decider here." Perry faces possible elimination on Tuesday night.
"DWTS" cameras showed Indycar racer James Hinchcliffe scared to compete against Olympic swimmer Ryan Lochte in the cha cha competition, but he prevailed, getting 29 points to Lochte's 25.
Hinchcliffe, who dances with Sharna Burgess, told reporters later about his sexy moves, "I was shocked I was able to move my hips like that. I knew that was going to get us bonus points, if we could pull it off….we sold it."
Lochte, with partner Cheryl Burke at his side, clued reporters in to the big difference between his "DWTS" gig and swimming: "I'm wearing clothes and I'm on land. But the work ethic is the same—you have to keep pushing yourself and just listen to your coach and practice."
Former football player Calvin Johnson Jr. and his partner Lindsay Arnold bested "Little Women LA" star Terra Jole and partner Sasha Farber in the Viennese waltz with a 32 vs. 30 score.
Enjoying his immunity and the highest score of the night backstage, Johnson told reporters, "We were in the flow of the music and the crowd was into it, that's what made it so much fun."
Maureen McCormick surprised many by scoring higher than her salsa competitor, Amber Rose. Although Rose shook her booty like there was no tomorrow, the former "Brady Bunch" star's more traditional salsa pleased the judges more, and McCormick scored 28 while Rose only 25.
Lastly, when former "Taxi" star Marilu Henner and Laurie Hernandez dueled in the tango, the gymnast came out on top.
Henner, who got 28 points, shrugged of her live performance, "I was disappointed in losing it. Dress rehearsal was so great…I felt kind of sad that I blew it at the end."
Her partner Derek Hough admitted, "It kind of fell apart a little bit, in the standard of knowing what she's capable of. We've got to find consistency." With Henner laughing that it wasn't true, Hough remarked that she is "very ADD…distracted by lots of different things."
Hough loved the "Face Off" concept, telling reporters, "It's a clever way to get everybody to dance in an hour. Also, it goes to show that half the show is the judges talking. That was weird not hearing them talk."
Teenager Hernandez, who scored 31, listened to her coach Val Chmerkovskiy and said, "I was happy I was able to show that very passionate tango emotion. I'm so glad I was able to get immunity."